UK and US to step up security links, as Obama visits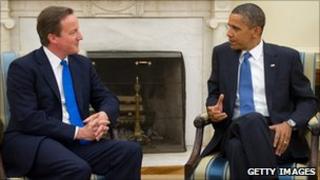 The United Kingdom and the United States are setting up a joint body to work on long-term security.
The formation of the National Security Strategy Board will be announced to coincide with the start of President Obama's state visit on Tuesday.
Headed by the UK and US chief security advisers, it will look at threats from terrorism and rogue states.
President Obama will also meet David Cameron and address both Houses of Parliament during his three-day visit.
And he will hold talks with Deputy Prime Minister Nick Clegg, contrary to newspaper reports last week suggesting there would not be time in the presidential schedule for such an appointment.
The security board, jointly led by Britain National Security adviser Sir Peter Ricketts and his US counterpart, Tom Donilon, is expected to meet several times a year.
A Downing Street source told the BBC: "The US and UK already work closely together on many national security issues.
"The new board will allow us to look ahead and develop a shared view of emerging challenges, how we should deal with them, and how our current policy can adapt to longer-term developments."
They added that this was a "further development of our close relationship on foreign and defence business".
'Uncertain future'
The source also said: "Sharing the knowledge and insights of the experts in London and Washington will help both governments look ahead in an increasingly complex and fast moving world.
"We can never foresee every development. But sharing our thinking in a more strategic and systematic way will help both governments prepare for an uncertain future and shape our current policies to best effect."
The board will focus on longer-term planning, rather than day-to-day, security issues.
It is expected that the formation of a second US-UK body - a service personnel joint task force looking at welfare issues for serving and retired military personnel - will also be announced during Mr Obama's visit.
The trip to London comes as part of President Obama's European tour, which has already begun in Ireland and will include visits to France and Poland.
During his UK stay he and his wife Michelle will be guests of the Queen at Buckingham Palace.
Mr Obama will hold talks with the prime minister at 10 Downing Street, with the Nato operation in Libya and ongoing tensions in the Middle East expected to be high on the agenda, along with the state of the global economy.
The president will also address both houses of the UK parliament at Westminster Hall, an honour usually reserved for British monarchs.
The White House has said the visit will be an important opportunity for Mr Obama to reaffirm the strength of the "special relationship".
Deputy national security adviser Ben Rhodes said: "There is no closer ally for the US in the world than the UK. We are in absolute alignment with the British on a range of core international security interests and, of course, our deeply shared set of values that have tied us together for many decades."
On Sunday, Foreign Secretary William Hague said the "special relationship" between London and Washington remained "very special".
He added: "You can see that in government. The co-operation that I see every day in intelligence matters is without parallel in the world. So is our nuclear co-operation. Our armed forces are working together with intimate closeness."