William Hague condemns violence in Sudan's Abyei region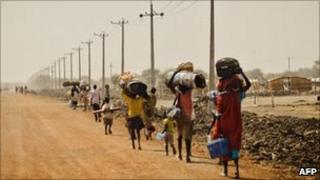 Foreign Secretary William Hague has condemned the violence in Sudan and called on all sides in the growing conflict to cease hostilities.
South Sudan is due to become independent in July, but there has been fighting in the border town of Abyei whose future is yet to be decided.
There are reports that civilians have been killed.
Mr Hague urged all parties to work towards "a peaceful and durable resolution" to the crisis.
Under a 2005 north-south peace deal - known as the Comprehensive Peace Agreement (CPA) - which ended 22 years of civil war in Sudan, Abyei was granted special status and a joint north-south administration set up to run it.
But tensions over the town have risen in recent months since a referendum on its future scheduled for January was postponed.
Aid agency Medecins Sans Frontieres has told the BBC that some 20,000 people - almost the whole population of the town - have fled following skirmishes, artillery fire and at least one air raid.
In condemning the violence, Mr Hague cited two instances in particular - an attack on Abyei by the Sudanese Armed Forces on 21 May, and an attack on a joint Sudanese Armed Forces and United Nations convoy on 19 May.
"These incidents are clear violations of the CPA and cannot be justified," he said.
"I call on all sides to cease hostilities immediately. All unauthorised forces should be withdrawn from the entire area of Abyei in accordance with past agreements by the parties. I remind the parties of their responsibility to protect civilians.
"I urge the parties to the Comprehensive Peace Agreement to respect their commitments under it, and... to negotiate a peaceful and durable resolution of all outstanding issues."
The UK Foreign Office advises against all travel to some parts of Sudan, and all but essential travel to the Abyei area.