Huhne denies newspaper claim about speeding points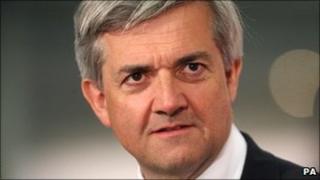 Chris Huhne has denied he is about to change his position on allegations he asked someone else to accept speeding penalty points on his behalf.
The Sunday Times claims the Lib Dem energy secretary has conceded he may have been driving his car on the day it was clocked speeding in 2003.
But his spokesperson said he had been "misrepresented" by the paper and had made "no admission" of anything.
His "total unlimited denial" remained in place, she added.
Police investigation
The energy secretary has been under pressure since his estranged wife Vicky Pryce suggested someone close to him took licence points for him after a speeding offence committed on the M11 motorway in 2003.
Essex Police are looking into the claim and Mr Huhne is helping officers with their inquiries.
But the Sunday Times has reported that Mr Huhne now "cannot be sure" he was not driving at the time in question.
The newspaper quotes an unnamed member of his staff as saying that the minister "doesn't remember what he did that day".
In response to the reports, his spokeperson insisted his position had not changed, and he did not even know if there was a speeding offence on that day.
Meanwhile, the Electoral Commission is also looking into Mr Huhne's affairs following a complaint about his general election expenses by two former Liberal Democrat councillors.
The allegations are based on a recording of a local party meeting in which treasurer Anne Winstanley is heard saying that the elections "have cost more than we declared".
The spending limit for Mr Huhne's constituency at the 2010 General Election was £39,973 and he declared £29,519.
Responding to the allegations, Mr Huhne said: "These election expenses have been thoroughly checked and accepted by the Electoral Commission. I have no reason to believe there are any irregularities."
Foreign Secretary William Hague was asked on the BBC's Politics Show whether he thought Mr Huhne should resign.
He replied: "I don't think every time there are allegations about members of the cabinet, they should automatically step down. There are often many allegations of many different kinds about members of the cabinet.
"So... if that's the question, the answer is no. But the answer to the questions about the allegations is, of course, we'll have to see what the police say about them."
Shadow cabinet office minister Tessa Jowell told Sky News that Prime Minister David Cameron should set up an independent investigation to establish the facts of both the expenses and driving matters.