Hague says Europe 'must be tough' on N Africa migrants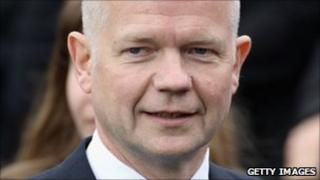 William Hague has said Europe will have to be "tough" if it is to stem the flow of migrants arriving from north Africa.
The foreign secretary told Sky News Europe "can't just accept" hundreds of thousands, or even millions of people.
He said there had to be a "bold and ambitious" effort to promote economic development in north Africa "so people can have livelihoods where they are".
Italy, in particular, has seen a flood of people fleeing unrest in Libya, Tunisia and elsewhere.
But other countries in the passport-free Schengen zone - in which there is free movement across borders for people and goods - fear that once the migrants are on European soil they may move elsewhere.
'Proper controls'
Mr Hague said that following the political upheavals in Tunisia and Egypt, in particular, there was now an international effort, involving Europe, the United States and bodies like the World Bank, to promote economic recovery.
He said that was one way in which the flow of migrants could be tackled, but added: "It also means we need proper controls and we have to be tough about this.
"We can't just accept a flow of hundreds of thousands or millions of people into southern Europe and then coming beyond that.
"Clearly, European nations are not able to accommodate those numbers, and so we do have to respond imaginatively for the future, for the economic wellbeing of north Africa so that people can have livelihoods where they are."
Denmark, one of the Schengen states, announced earlier this month that it plans to re-impose controls on its frontiers with Germany and Sweden within weeks.
There have also been tensions between France and Italy, after Italy granted the migrants - many of them French speakers - temporary residence permits, which enabled them to enter France legally.
Italy has complained it is not getting enough help from its EU partners to deal with the influx.
'Still special'
In a wide-ranging interview, Mr Hague also welcomed President Barack Obama's call for any future Palestinian state to be based on pre-1967 borders.
Mr Obama's words angered the Israeli government, but the UK foreign secretary gave the president his backing.
"I have called for several months for the US to make this their position so I'm very pleased that the president has done so," he said.
"Only the US can really decisively deliver Israel into a peace agreement and give them the necessary reassurance."
Mr Hague insisted the US-UK relationship remained "very special" but was not based on "slavish" agreement.
"The policies of the UK and US are as closely aligned as they have ever been," he said.
"The co-operation I see every day is without parallel in the world."