Hard to explain how bad economic crisis is, says Cable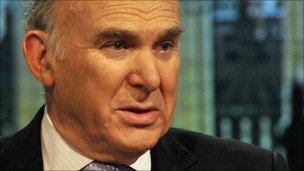 Business Secretary Vince Cable says it has been a challenge for the government to explain to the public how bad a state the economy is in.
He told the Guardian the country was poorer because of the banking collapse and recession - and from a "squeeze" from the changing world economy.
Britain is no longer one of the "price-setters" in world markets, he said.
"We have had a very, very profound crisis which is going to take a long time to dig out of," he warned.
Speaking about the state of the economy, Mr Cable said: "It is a challenge to us to communicate it better. I don't think it is understood that the British economy declined 6 or 7%...
"We are actually a poorer country, mainly because of the banking crash, the recession that followed it and partly due to the squeeze we are now under from the changing balance of the world economy."
He added: "Britain is no longer one of the world's price setters. We take our prices from international commodity markets driven by China and India.
"That is something we have got to live with and adjust to. It is painful. It is a challenge to us in government to explain it. The political class as a whole is not preparing the public for how massive the problem is."
"Ultimately it comes back to this defensiveness and an unwillingness to accept that Britain was operating a model that failed... it makes it more difficult for us to get through to the public about the scale of the problem. That is to everyone's loss."
He said Britain's deficit was "only one of the symptoms" of the financial crisis.
"We had the complete collapse of a model based on consumer spending, a housing bubble, an overweight banking system - three banks, each of them with a balance sheet larger than the British economy.
"It was a disaster waiting to happen and it did happen. It has done profound damage and it is damage that is going to last a long time."
Related Internet Links
The BBC is not responsible for the content of external sites.