Judge questions injunction 'flouting' in Parliament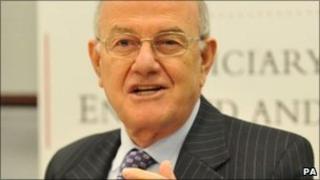 The most senior judge in England and Wales has appeared to criticise MPs and peers who use parliamentary privilege to breach privacy injunctions.
Lord Judge questioned whether it was "a good idea" for politicians to be "flouting a court order" just because they disagree with it.
He spoke after the release of a report into the use of super-injunctions.
But Lib Dem MP John Hemming accused judges of trying to curtail politicians' freedom of speech.
Parliamentary privilege protects MPs and peers from prosecution for statements made in the House of Commons or House of Lords.
On Thursday, Lib Dem Lord Stoneham used it to reveal details of an injunction brought by former Royal Bank of Scotland boss Sir Fred Goodwin.
Ministers, including David Cameron, have indicated their unhappiness at courts' granting of injunctions, following controversy about celebrities using them to hide details of their personal lives.
Lord Neuberger, who is the most senior civil judge in England and Wales, has chaired a year-long inquiry into their use.
Delivering his report at a press conference on Friday, he said the law governing the coverage of Parliament was "astonishingly unclear", and senior judges and the Speakers of the Commons and the Lords would be meeting to discuss it further.
He insisted Parliament's right to debate whatever it wanted was of the highest constitutional importance, and no injunction - super or otherwise - should interfere with that.
But the Lord Chief Justice, Lord Judge, also told reporters: "It is, of course, wonderful for you if a Member of Parliament stands up in Parliament and says something which in effect means an order of the court on anonymity is breached.
"But you do need to think, do you not, whether it's a very good idea for our law makers to be flouting a court order just because they disagree with a court order, or for that matter, because they disagree with the law of privacy which Parliament has created.
"It's a very serious issue in my view.
"There has never been any question, in any of these orders, not in any single one of them, of the court challenging the sovereignty of Parliament.
"That's not the issue. We are following the law, as best we understand it, at the level of the judiciary where the issues have been canvassed."
'Without malice'
Lord Neuberger also said newspapers and broadcasters who published comments made in Parliament which contravened injunctions might be in contempt of court.
They were only protected by privilege if published "in good faith and without malice", he said.
It was still "an open question", he said, whether publication of an exchange "which had the effect of frustrating a court order and was deliberately intended to do so would be held to be in good faith and without malice".
Lib Dem MP Mr Hemming, who has campaigned against the increasing use of injunctions and first raised the Goodwin case in the Commons, called Lord Neuberger and Lord Judge's remarks "unconstitutional".
"Parliament is supposed to do its own thing and only be accountable to the electorate, and we seem to be moving down the route [towards] judges trying to influence what's said in Parliament," he told the BBC.
"I am also worried that the committee appear to be attempting to dissuade the media from reporting what is said in Parliament.
"This attempt to gag the media in discussing the proceedings in Parliament is, in my view, a retrograde step."
He added: "What I find disappointing is that there does not seem to be any recognition by the committee that perhaps there is too much secrecy."
But while Mr Hemming expressed his displeasure at the judges' remarks, other MPs appeared to agree that they should be wary about using privilege to breach injunctions.
Chuka Umunna, an aide to Labour leader Ed Miliband, wrote on Twitter: "I do not think it is desirable or healthy for parliamentarians to abuse parliamentary privilege to break court injunctions."
He added: "If MPs and peers use parliamentary privilege to flout court injunctions, that is a serious breach of the separation of powers in my view."
Labour's Kevin Barron, chairman of the Commons Standards and Privileges Committee said: "Legislators need to know what the public interest is on these matters when a court has ruled on them."
Downing Street described Lord Neuberger's report as "very useful" and said the prime minister would consider it "very carefully".