Could Alex Salmond scupper the Scotland Bill?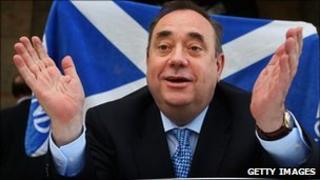 Could Scotland's first minister spark a constitutional crisis long before any referendum on independence, as he battles for more powers in the Scotland Bill?
Alex Salmond wants more powers for Scotland and he could derail a Westminster bill in his fight to get them.
The nationalist first minister wants legislation going through the House of Commons changed to give him more control.
But unlike most people arguing with UK ministers Mr Salmond has a secret weapon: he can bring their legislation to a halt.
That would spark a battle over whether ministers in London or Edinburgh are masters of Britain's constitution.
As it stands, the Scotland Bill would give Holyrood the power from 2015 to set a Scottish income tax rate each year, to raise some 35% of the revenue it spends and to introduce new Scotland-specific taxes if the Westminster Parliament agrees.
Mr Salmond, though, wants more.
'Biggest mandate'
He has long said the bill should be amended to give Scotland control of corporation tax, revenues from the Crown Estate in the nation and to bring forward new capital-borrowing powers.
After his election as first minister Mr Salmond added three more demands to that list: control of alcohol duties, more say over broadcasting and more influence in Europe.
Speaking for the UK government, the Lib Dem Scotland Secretary Michael Moore suggested they might all be rejected.
He said: "We will listen to any detailed arguments that are put forward to us. But excise duties are things that we believe are best placed at a United Kingdom level. Broadcasting we also believe should be a UK-wide responsibility."
He added that the UK government had a good record of allowing Scottish and other ministers to appear alongside UK ministers in European councils, "remembering Britain is the member state, not the individual parts of Britain".
Ace card
But after its performance in this month's elections, the SNP is in confident mood.
One of its MPs, Angus MacNeil, says the party's majority in the Scottish Parliament gives it "the biggest political mandate of any government in the British Isles".
It also has an ace card up its sleeve.
The Scottish Parliament, which the SNP controls, will vote on the Scotland Bill before it completes its passage through the House of Lords, probably by the end of the year.
It can do that because of a convention that means a "legislative consent motion" will be discussed by a committee of MSPs before being voted on by the whole Scottish Parliament.
Were Holyrood to refuse its consent, the Scotland Bill would be formally rejected by the Scottish Parliament. UK ministers would have to decide whether to push it through against the wishes of MSPs - something considered unlikely - or see their legislation fall at Mr Salmond's hands.
Constitutional crisis
It might be difficult for a nationalist leader to explain why he was refusing more power. But it would also be challenging for a UK minister to explain how he had lost his bill to opposition in another parliament.
Both sides insist they do not want their negotiations to end like that.
Mr Moore said: "I'm not rushing to have some kind of constitutional crisis set out from day one because I think it's important that we continue the discussions that we've frankly been having for the past year and will continue to have."
He points out the Scotland Bill already grants the Scottish Parliament substantial new powers.
The UK government has asked for more detail on the SNP's requests, but has only offered clear indications of support for one: bringing forward capital borrowing powers.
Asked whether the SNP would seek to veto the bill if it cannot get more, Mr MacNeil said: "There are various ways of ensuring movement will take place."
He added: "I would rather not have to cross that bridge. I'm fairly certain we won't have to cross that bridge. I'm sure wiser counsel will ultimately prevail and I hope it does."
Independence referendum
Negotiations have already begun between Mr Moore and Mr Salmond.
They are conducted, of course, in anticipation of the independence referendum promised by the SNP, which may prompt even more profound debates about control of the constitution.
The current bill does not deal with the prospect of a referendum, and Mr Moore will not guarantee that if Scotland does vote yes to independence the Westminster government will consent to its breaking away from the UK.
He said: "I'm not getting into speculation about what we might do in the future on the basis of various hypothetical outcomes."
With under a third of Scottish voters backing independence, the SNP has to convince a nation and not just the Westminster government of the case for independence.
But the tussle between the UK and Scottish government could play a vital role in that debate.