Police 'to investigate David Laws expenses'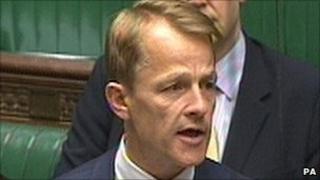 Police are to investigate the expenses claims of ex-Lib Dem cabinet minister David Laws, a Labour MP has said.
Thomas Docherty, who made a formal complaint last week, said officers had informed him they would be looking into the case.
A Metropolitan Police spokesman would not confirm whether this was the case.
Mr Laws was suspended from the Commons for seven days after being found guilty of breaching rules by claiming expenses for rent paid to his partner.
He resigned as chief secretary to the Treasury last year after just 17 days as a cabinet minister, following reports he had claimed about £40,000 to pay rent to his partner, the lobbyist James Lundie.
Payments to relations and partners have been against parliamentary rules since 2006.
'Serious breaches'
Mr Docherty said: "The Met have confirmed to me that they will be carrying out an investigation into Mr Laws in the light of the complaint that I made and the evidence they have received from the parliamentary standards commissioner's inquiry published last week."
Mr Laws referred himself for investigation to the commissioner who, in his report, concluded the MP had committed "a series of serious breaches" of the rules, including the rule on paying partners.
A senior Liberal Democrat source told the BBC: "We have had no indication that there is an investigation but because Mr Docherty has made a formal complaint it is completely natural that the police would look at it.
"As they've looked at it before we don't expect anything to come of it, but we will await the police's response."
Mr Laws, the MP for Yeovil, has apologised and said his motivation in claiming for the expenses was to protect his privacy.
Following a vote by MPs on Monday, he will be suspended from the Commons for a week from 7 June.