Trafficked children 'sold in UK for £16,000'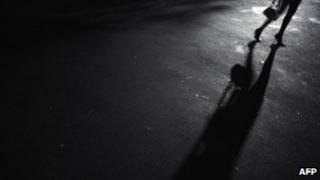 Children smuggled into the UK are being sold on British streets for up to £16,000 each, MPs have heard in a debate on human trafficking.
The DUP's David Simpson, MP for Upper Bann, said it was a "disgrace".
Conservative MP Mark Field said human trafficking was the "modern equivalent of slavery" and the "most unpleasant by-product of globalisation".
Home Office minister Damien Green said the government was doing all it could to "end this trade in human misery".
The government recently signed up to the EU human trafficking directive, while publication of its strategy to combat trafficking - which has been criticised by some campaign groups - has been postponed to June.
'Voiceless and vulnerable'
Mark Field, MP for Cities of London and Westminster, who chaired the debate, said mostly women and children were the victims of the illicit trade.
They were coerced into forced labour, sexual services and domestic servitude, he said.
He said reliable statistics were difficult to come by.
"Being a covert crime it is inevitably incredibly tricky to measure," he said.
"Victims are often disconnected from mainstream society and find it very difficult to come forward."
He said illegal immigrants also often feared deportation.
"The modern day slaves that it [human trafficking] has created are voiceless and vulnerable. They are stowed in the untouched shadows of our communities."
But, he continued, they did not just exist in the "seedier corners".
"The backdrop to their exploitation can as easily be in suburbia, the fields of our countryside or even the beaches of our shores".
Traffickers can enslave using violence, threats to harm a victim's family, through debt, or they can be manipulated by deception, he said.
"Trafficking can be perceived as comparatively low risk. A busy brothel with five to 10 girls in central London can make £20,000 a week without the violence and risk that is associated with the illicit drugs trade."
David Simpson MP congratulated Mr Field "on very important debate".
But he called for action rather than strategy.
"When children in this United Kingdom are being sold on its streets for £15,000 and £16,000 a time, it's another disgrace and surely we need action and we need some serious penalties for these crimes."
Damien Green said said the strategy was for agencies to work together, while they remained committed to improving victim identification.
The Salvation Army would be used as a "gateway to other providers", he said.
"I do take the point that our work should be transparent and responsive to criticism when that criticism is well-founded."
Prime Minister David Cameron later told MPs in the Commons: "We need to make sure we do everything we can to stamp out this repulsive practice."