Peerage 'left Tory Lord Hanningfield out of pocket'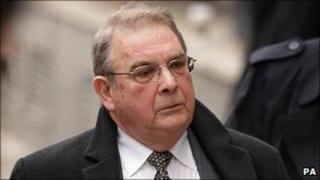 A Conservative peer accused of fiddling his parliamentary expenses told police that entering the Lords had left him "out of pocket", a court has heard.
Lord Hanningfield said he had "average out" his claims to recoup some of the money spent on his duties, Chelmsford Crown court was told.
The former Essex County Council leader also told officers he had been "singled out" over expenses, it was added.
Lord Hanningfield, 70, denies six charges of false accounting.
He is accused of making false claims for accommodation and travel costs incurred before or after performing his duties in the House of Lords between March 2006 and April 2009.
The court heard that, during an interview in August 2009, he had told police: "I have done the same as 500 or 600 other peers."
'Regret'
He also said: "I averaged them out because of my total expenditure.
"I have spent all of my money, £200,000, being a peer, and I have claimed £150,000 back. I have claimed what I thought I could within the law. I have never done anything illegal in my life."
Lord Hanningfield, appearing in court under his name Paul White, told officers he was forced to borrow money to "sustain" his public service, the jury heard.
He said: "I have just put so much money into my public life. I regret ever becoming a peer. I wish I had just stuck at the county council."
On Lords expenses, he told police: "It is an allowance scheme, not a reimbursement scheme. Quite honestly, people see it as a way of recouping what we spend."
During the second day of Lord Hanningfield's trial, jurors were read a statement which he provided to police during an interview at Colindale police station in north London.
The peer said he had a "horrendous" workload as both a parliamentarian and the leader of a council with 40,000 employees and a £2.2bn annual turnover.
He said: "Essex is as big as Northern Ireland. So my job is something like the equivalent of being prime minister of Northern Ireland. It is bigger than Croatia, Lithuania and Latvia.
"We have the same size economy as Cuba - it is a very busy job."
The trial is expected to last between five and eight days.