David Cameron urges action to tackle youth unemployment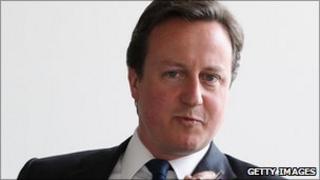 David Cameron has promised to tackle the "very severe problem" of youth unemployment and cut the number of unqualified teenagers.
The prime minister said it was important to bring in reforms to make sure "you are always better off in work" than on benefits.
He told a committee of senior MPs that it was necessary to "rebalance the economy" to create more employment.
But Labour said government cuts were causing the economy to "flatline".
The prime minister faced the Commons Liaison Committee, made up of the chairmen of MPs' select committees, during a meeting focusing on the economy and the UK's role overseas.
He said there were currently almost one million 16 to 24-year-olds not in employment, adding that the country had a "schools problem" and an "opportunity problem".
'Incentive'
Mr Cameron said: "This is a very severe problem. We understand the extent of it...
"We have got to fix the problem of people leaving school without adequate qualifications."
He added that reforms put through by Work and Pensions Secretary Iain Duncan Smith would ensure work paid more than living on benefits, creating an "incentive" to enter employment.
Mr Cameron also warned the banks today that they must honour their commitments to increase lending to business, saying they could be hit with a fresh round of taxes if they did not increase the flow of credit.
After the Project Merlin agreement between the banks and the government in February, he admitted the latest set of bank lending figures had been "disappointing".
He said: "The banks recognise that it is extremely unhealthy in a modern, competitive market economy to be in a permanent state of war with the politicians. It was in their interests to reach an agreement.
"I think that is quite a sanction. It was a deal, it was an agreement and they have to meet their side of the agreement or we don't have to meet ours."
For Labour, shadow chief secretary to the Treasury Angela Eagle said: "David Cameron is clearly in denial about the impact his government's policies are having on our economy. Since his government's spending review and VAT rise the economy has flatlined with zero growth over the last six months.
"The economy should be growing and recovering strongly this year. As the governor of the Bank of England said last week, his expectation a year ago was the economy would have grown by 1.5% over the last six months rather than the flatlining we have actually seen.
"But by making a political decision to cut too far and too fast, this Conservative-led government has choked off the recovery. The slower growth, higher unemployment and higher inflation we're now seeing means the government will have to borrow £46bn more than they were planning just a few months ago.
"David Cameron needs to get his head out of the sand and realise that his policies aren't just hurting, they're not working."