Hereditary peer the Earl of Onslow dies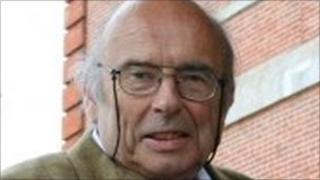 The hereditary peer, the Earl of Onslow, has died, House of Lords speaker Baroness Hayman has announced.
The 73-year-old peer had been a member of the House for 40 years and last spoke in the chamber on 29 March.
A self-styled "disloyal" Conservative, he was known for his colourful bow ties and outspoken views on issues such as drugs, which he called to be legalised.
He also made two appearances on the BBC's Have I Got News for You and hosted a Radio 3 music programme.
Lord Onslow was one of 90 hereditary peers elected to remain in the Lords when the majority were removed in 1999.
He was a regular attender of the House, and served on several committees, but in recent months had spoken from a wheelchair following illness.