Chris Huhne: A family affair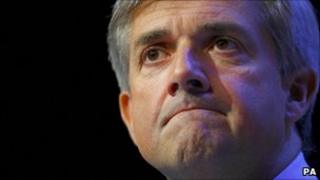 This morning Nick Clegg called in Chris Huhne to ask him about the latest allegations about him.
He's now appeared on camera to deny them. I'm offering you the choice between the long and convoluted explanation or the short one?
The short - Chris Huhne insists he's done nothing wrong and there is - as yet and may never be - evidence to contradict that. However, someone's briefing the press about the story and Essex Police have said they'll check if there's anything to investigate
The long - Chris Huhne denies asking an aide or his estranged wife Vicky to take speeding points for him so that he didn't lose his licence. However, a week ago his wife, who is currently divorcing him after he had an affair, told a newspaper that she was aware of the story.
This week the Sunday Times claimed to have seen a transcript of a tape recording of a phone call of Mr Huhne talking to someone (who some now allege was his wife) about the allegations.
Now Vicky - she's the wife, you'll remember - is apparently thinking of writing a book with the help of Isabel who wrote the story in the Sunday Times.
Come on, keep up there. Isabel is Isabel Oakeshott who's the political editor of The Sunday Times and is also a relative and close contact of someone who's a friend of the Huhne family - the Lib Dem peer Lord Oakeshott who recently resigned to criticise the government from the backbenches.
Now Lord Oakeshott helped run Chris Huhne's leadership campaign against Nick Clegg but he's still a friend of Vicky's as well as Chris's.
Now some close to Nick think Chris might have been preparing to run against Nick so they might not be unhappy if Vicky undermines him (Chris, that is) with the help of the Tory press who are upset because he - Chris, that is - attacked George (do keep up, I mean the chancellor of the exchequer).
The conclusion - Until and unless someone provides the police or the media with evidence of wrong doing Chris Huhne will survive in his job but those thinking he should replace Nick Clegg as leader soon have been given another reason to think again.
The moral - You may wish that the personal and the political remain separate but they very very rarely do.