MPs approve Laws suspension over expenses breaches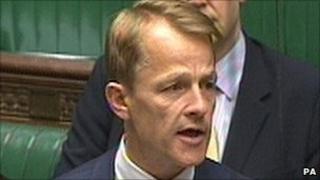 MPs have voted to suspend former Liberal Democrat minister David Laws from Parliament for seven days for breaches of Commons expenses rules.
The former chief secretary to the Treasury was found to have committed "a series of serious breaches of the rules" following a recent inquiry.
He wrongly claimed expenses to pay rent to his partner and for building work and telephone bills, a report said.
Mr Laws has apologised and said his motivation was to protect his privacy.
The Commons Standards and Privileges Committee recommended last week that Mr Laws be barred from the House for seven days after his conduct was criticised but their proposed sanction had to be approved by the Commons as a whole, in a vote, before it could take effect.
'Rigorous probe'
Following Monday's vote, Mr Laws will be suspended from the Commons for a week from 7 June.
Commons leader Sir George Young said it was always "regrettable" for Parliament to have to consider such a step but he stressed the inquiry into Mr Laws' behaviour had been "lengthy" and "rigorous".
The Lib Dem MP for Yeovil became number two in the Treasury, working alongside Chancellor George Osborne, after the Conservatives and Lib Dems agreed to share power in May 2010.
But he resigned after just 17 days as a cabinet minister, following reports he had claimed about £40,000 to pay rent to his partner, the lobbyist James Lundie.
Payments to relations and partners have been against parliamentary rules since 2006.
Mr Laws paid back £56,592 and referred himself for investigation to the Parliament's standards watchdog.
In his report, the standards commissioner concluded the MP had committed "a series of serious breaches" of the rules, including the rule on paying partners.
The report also said he had been wrong to designate his constituency home as his "main home" because he was spending more time living in London at Mr Lundie's property. This arrangement allowed him to claim thousands of pounds in allowances against Mr Lundie's property.
He was also found to have wrongly claimed some £2,000 for building work and £2,248 for telephone bills. The rent claimed on Mr Lundie's property was also found to be £200 to £300 higher a month than the market rate.
'Not consistent'
The standards commissioner accepted that Mr Laws' motivation was to keep his homosexuality secret, but said that nonetheless, his conduct "was not above reproach" and he had given "a false impression" of his relationship with his landlord.
Mr Laws apologised to MPs last week, saying he took "complete and personal responsibility" for mistakes he had made.
A number of MPs expressed concerns about whether the sanction was proportionate and whether Mr Laws was being harshly treated.
Labour Frank Field said he was concerned whether the judgement was "consistent" with the cases of some former MPs who had breached the rules but who "had never even had their knuckles rapped by a ruler".
But the chairman of the Standards and Privileges Committee, Labour MP Kevin Barron, said the penalty was "appropriate" since Mr Laws' expenses claims had been "simply and explicitly" against the rules since 2006 and his rental agreements had been consistently "misleading".
"The committee recognises his motivation but there were other ways to preserve privacy," he said. "The member could have refrained from claiming or, alternatively, he could have designated his main home properly."
He added: "This was a deliberate attempt to conceal the member's real living arrangements continued for many years."
However, Mr Barron said the MP's behaviour since the allegations surfaced in May 2010 - after which he referred himself to the watchdog, resigned his cabinet post and repaid more than had been incorrectly claimed - had been "exemplary".