Profile: Chris Huhne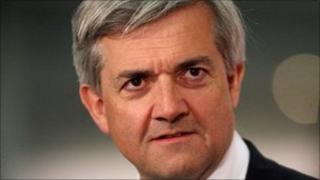 No-one could accuse Chris Huhne of lacking ambition.
Within months of arriving in Parliament in 2005, the Lib Dem MP for Eastleigh was challenging for the leadership of his party, after the resignation of Charles Kennedy.
He lost out on that occasion to Sir Menzies Campbell - but he went on to challenge Nick Clegg for the top job two years later, missing out by the slenderest of margins.
He now finds himself in the unusual position of being both the favourite at the bookmakers to be the next Lib Dem leader - and to be the next cabinet minister to leave government.
He shot to the top of the leadership betting after a series of outspoken attacks on the Conservatives in the run-up to the referendum on changing the voting system.
Like many senior Lib Dems, he was angry about what he saw as underhand tactics by the No campaign, whom he accused of spreading lies about the cost of changing to the alternative vote system and smears against Lib Dem leader Nick Clegg.
He threatened legal action and accused Conservative Party Chairman Baroness Warsi of using "Goebbels-like" propaganda, after she said the alternative vote would benefit extremist parties.
'Sub-Jeremy-Paxman"
The attacks culminated in a showdown at cabinet, with Mr Huhne reportedly slapping two No campaign leaflets containing attacks on Mr Clegg on the table and challenging Prime Minister David Cameron and Chancellor George Osborne to sack any Conservative activists involved in producing them.
Mr Osborne is said to have told him cabinet was no place for "sub-Jeremy-Paxman" interrogations.
No-one doubted Mr Huhne's anger about the No campaign's tactics, but many suspected he was also positioning himself for another tilt at the party leadership if and when the coalition falls apart.
He now finds himself fighting for his political future after allegations he asked someone else to take his penalty points for a 2003 speeding offence.
He strenuously denies the allegations, made by his ex-wife, Vicky Pryce, and has received the backing of Mr Cameron, who is thought to be keen to avoid a cabinet reshuffle at this stage.
But his future could hang on whether Essex Police, who have assigned a senior detective to look into the allegations, decide to launch a full criminal investigation.
The allegation against Mr Huhne dates back to 2003 when he was a member of the European Parliament.
Fortune
At the time he is thought to have had a number of penalty points on his licence and the alleged speeding offence, in Southend, Essex, would have meant an automatic ban.
In fact, Mr Huhne subsequently lost his licence after being caught using his mobile phone while driving.
Ms Pryce obtained a divorce from Mr Huhne in January on the grounds of his adultery.
Some press reports suggest that she had been asked by Mr Huhne to take the points.
But Mr Huhne has denied the claims, saying they are "incorrect" and that he welcomes the police investigation as it will draw a line under the matter.
Ms Pryce is writing a book about her relationship with the cabinet minister, reportedly entitled Thirty Minutes To Kill The Story, which is what he is supposed to have said when he found out a tabloid newspaper planned to reveal details of an affair.
Mr Huhne left Ms Pryce, with whom he has three children, for Carina Trimingham, a media consultant who worked for him during his 2007 leadership campaign.
Ms Pryce, a former chief economist at the Department for Business, Enterprise and Regulatory Reform, is reported to be in a financial battle with Mr Huhne.
The couple owned several houses, some of which were let out as rental properties.
A former financial journalist, who went on to make a fortune in the City, Mr Huhne is thought to be a millionaire several times over.
Radical past
But he has always been reluctant to talk about his investments, which at one time were reported to include a stake in an Egyptian gold mine.
Like Mr Clegg, the 56-year-old was educated at Westminster school, worked as a journalist and then a member of the European Parliament before becoming an MP in 2005.
Mr Huhne's mother was the actress Ann Murray, who had a stage and film career in the 1950s.
His radical past came under scrutiny during the leadership campaign, including an article he wrote at Oxford, which appeared to advocate the use of LSD and other hard drugs.
He was also pictured during a demonstration brandishing a park bench as other students smashed their way into a building.
Mr Huhne, who was reportedly known as Christopher Paul-Huhne at Oxford, where he gained a first in Politics, Philosophy and Economics, laughed off such revelations by saying he was a "revolting student" in every sense of the word.
He is the author of four books, including titles on debt and the developing nations, and on European integration.
He ran a combative leadership campaign against Nick Clegg, although a briefing note entitled "Calamity Clegg" was put down to an "over-zealous researcher".
Coalition negotiations
Mr Huhne apologised over the incident but continued to accuse Mr Clegg of "flip-flopping" on issues like the NHS and education.
His differences with Mr Clegg apparently buried, Mr Huhne played a key role in the negotiating team that hammered out a coalition agreement with the Conservatives after last May's general election ended in stalemate.
He was rewarded with a seat at the cabinet table as energy and climate change secretary - with the job of delivering on David Cameron's promise of leading the "greenest" government in history.
He was also in charge of building a new generation of nuclear power stations, despite his party's scepticism about the policy.
The future of his department was thought at one stage to be under threat thanks to the severity of the budget cuts it faced.
But it has survived and Mr Huhne has won a battle with Lib Dem cabinet colleague Vince Cable over climate-change targets, paving the way for drastic cuts in greenhouse gas emissions to 2027 and an overhaul of the way energy is produced.
But the achievement has been overshadowed by the allegations about his speeding fine.