No ban imposed on wild animals in circuses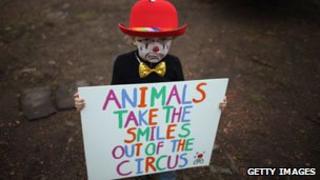 Ministers will not ban the use of wild animals in circuses but have promised to enforce "high welfare standards".
Government-approved vets will oversee a new licensing scheme designed to prevent cruelty and mistreatment.
Mark Jones, from the charity Care for the Wild International said there was widespread public support for a ban and called the decision "preposterous".
The previous Labour government had indicated it was "minded" to support a ban.
'Best possible conditions'
A ban introduced in Austria is being challenged under European law, and the UK government argued that it would be unworkable to introduce one, until the outcome of that case was known.
But Environment Minister Caroline Spelman said she wanted to take action to protect animals like lions and tigers which are already in UK circuses.
"Most circuses choose not to feature wild animals in their shows and I believe that most people would prefer not to see them performing in circuses," she said.
"But where circuses do choose to show wild animals, people expect those animals to be kept in the best possible conditions."
In future, circuses will need a licence to keep wild animals and in order to get one, must demonstrate that they meet certain standards, including providing large enough enclosures and properly-trained keepers.
But Mr Jones said wild animals in circuses suffered "a life of cruelty and mistreatment" and a government consultation in 2010 had found that 94% of the public were in favour of a ban.
"Since then, the coalition government has dithered and delayed. Now it's using a supposed Austrian court case as an excuse for further delays," he said.
"It's preposterous."
In 2009, the year for which the latest figures are available, there were an estimated 39 wild animals being used in circuses in the UK, including elephants, tigers, lions, camels, zebras and crocodiles.
There was a public outcry earlier this year when footage emerged of a 59-year-old circus elephant called Anne being beaten with a pitchfork in Northamptonshire.
She has since been taken to Longleat Safari Park in Wiltshire.