Government advice site tackles tax, MoTs - even whales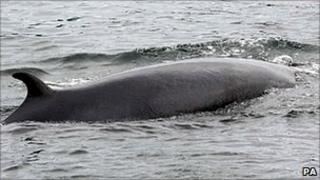 Advice on problems from stranded whales to missed bin collections has been gathered together on one website.
Alphagov aims to make dealing with government less "painful" by listing all its information in one place.
Popular topics on the "early draft" website include guides to redundancy, childcare and checking a car's MoT.
The wide-ranging topics range from advice on tax and benefits to answers to the questions "I think I have swine flu" and "Can I drive a minibus?".
The test website is up for two months to allow people to give feedback.
Ultimately the government hopes it will offer a wide range of services, such as online tax returns, but for now it contains answers to some of the its most frequently asked questions.
Among the more bizarre issues the website offers advice on is what to do if you find a stranded whale or dolphin - providing telephone numbers for different specialists, depending on whether the animal is alive or dead.
Errors warning
It also deals with more everyday concerns such as information on National Insurance, visa waivers for travelling to the US, problems with street lights and children's car seats.
The Alphagov web domain was recommended by internet entrepreneur Martha Lane Fox as part of her review of government digital communications last year.
Messages on the site indicate it is a work in progress with possible "errors, inconsistencies and inaccuracies" - it will be up for two months to allow people to give their feedback.
It has been estimated that having one site linking to all government information and transactions could save at least £65m a year. The aim is to get more people applying for government transactions- like car tax and student loans - online .
The finished version is expected to provide advice and links to complete tasks such as filling in tax returns and road tax forms.
Cabinet Office minister Francis Maude said the site was not the "finished article", as it was the first time that the government had released a prototype version of a web domain.
"Interacting with the government online is, with a few notable exceptions, lengthy, complicated and generally painful," he said.
"We inherited hundreds of websites all providing separate government services, which cost a lot and make it incredibly difficult to find what you are looking for. We are trying to change this."
Among details on the site are how to apply for a passport, a driving licence and Jobseeker's Allowance.
There are guides on subjects ranging from eligibility for cold weather payments and housing benefit to information about redundancy laws and "setting up a free school" - a flagship coalition education policy.
It also provides answers to common questions such as how to contact the police and whether a car needs an MoT.