Local spending survey blocked by government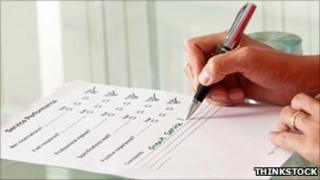 The BBC has today released the results of a detailed survey of how much local councils in England are planning to spend in the coming year on their range of public services.
This is the first overview of how English council budgets are responding to the government's squeeze on spending. It is an extensive piece of research, which obtained data from 268 of the 352 English authorities.
Some councils were much more willing to co-operate than others. The initial requests were not made as freedom of information applications, but in some cases it proved necessary to submit formal FOI requests to obtain data from councils which otherwise would not reply. Over 80 authorities had failed to respond by the deadline.
The BBC's attempts to collate this spending data largely avoided some obstacles placed in the way of alternative research being carried out by other media.
The BBC aimed to collect figures from each authority under headings from a system called SeRCOP, a breakdown of local authority expenditure devised by the Chartered Institute of Public Finance and Accountancy.
It turned out that the Local Government Chronicle (LGC) was pursuing a similar survey. But it appears to have asked for what's called Revenue Account information - figures based on SeRCOP data which local authorities then submit to the Department for Communities and Local Government.
Open spirit
DCLG instructed councils not to provide this data, on the grounds that it is intended for future publication by the Office for National Statistics.
The BBC has seen a copy of an e-mail circulated to councils by DCLG's Revenue Statistics Branch, which told councils to refuse the LGC's information request in rather fierce terms.
The DCLG e-mail, sent on 27 April, stated: "Normally the stance DCLG takes is that any local authority data that has not been vetted thoroughly and has not been formally released to all members of the public should not be handed to any individual party under any circumstances without clearance from a national statistics authority (which we represent)."
Possibly that attitude doesn't really fit with the spirit of openness that is meant to infuse the public sector these days.
Update 15:26: The Department for Communities and Local Government has got in touch. It states that its instruction to councils to refuse to give out RA data was sent on the advice of the chief statistician and was necessary to comply with the code of practice for official statistics.
The Department says: "The government has a legal obligation to ensure that statistical data is accurate and does not have mistakes. It is in the public interest not to disclose this information ahead of planned publication because of the need to quality assure the data and it is for that reason that the request was made of councils."
DCLG insists that otherwise it encourages councils to share information. But the terms of the instruction issued to authorities clearly go much wider than simply the RA data - and indeed some councils tried to use it as a basis for refusing to supply the different although similar data which the BBC requested from them.
The Department has pushed councils in England into automatically revealing much greater details of their current spending and is keen to bolster a reputation for openness. But there is certainly a tension between this stance and what some of the department's own statisticians regard as a proper and orderly way to make a wide range of financial data public.