Taliban resistance 'under-estimated' by Britain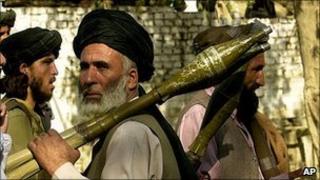 Britain failed to accurately gauge Taliban resistance to UK troops in Afghanistan's Helmand province, the head of the armed forces said.
General Sir David Richards told the Commons defence committee UK troops "turned up a hornet's nest" when they moved into south Afghanistan in 2006.
"There was, in some respects, a failure of intelligence despite the efforts to get it right," he said.
Around 3,300 British troops took over control of Helmand five years ago.
Gen Richards said they soon became embroiled in some of the most ferocious fighting since World War II.
MPs have been questioning military chiefs about why they under-estimated the strength of the Taliban.
General Sir Peter Wall, the head of the Army, said there "clearly was" a failure of intelligence.
'Vehement' reaction
"I absolutely accept that what we found when we had our forces on the ground was starkly different from what we had anticipated and been hoping for," he said.
"We were ready for an adverse reaction but we did not, to be fair, expect it to be as vehement as it turned out to be," he added.
"We had always anticipated Taliban potential intent. What we probably under-estimated was their capacity," he said.
Gen Wall said British intelligence agencies were "actively engaged" in the area.
Gen Richards said most of the information related to the provincial capital, Lashkar Gah, in the south of Helmand, which was "pretty positive and benign".
"The crux of the problem was when we went into the north and arguably turned up a hornet's nest," he said.
General Sir Nicholas Houghton, Vice-Chief of the Defence Staff, said one of the factors behind the resistance was the Taliban's ability to play on the threat to farmers' livelihoods from the decision to eradicate opium plants.