Labour turn up heat on Huhne over carbon emissions row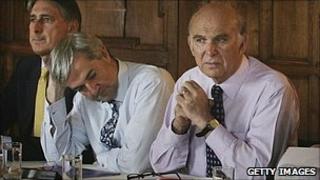 Labour have sought to turn up the heat on energy secretary Chris Huhne amid a row over carbon emission targets.
Business Secretary Vince Cable wants to amend plans to halve emissions between 1990 and 2025, leaked reports suggest, fearing it will slow economic recovery.
But fellow Lib Dem Mr Huhne believes the coalition must stick to the target.
Labour accused the energy secretary of being "weak and ineffectual" but Mr Huhne told MPs they should not "believe everything" written on the subject.
Independent watchdog the Committee on Climate Change (CCC) has set out how the government can meet the 2025 target in a "carbon budget".
Until now ministers had accepted the committee's recommendations.
But a letter from Mr Cable to Chancellor George Osborne and Lib Dem leader Nick Clegg, leaked to BBC News, said that accepting the carbon budget risked endangering the competitiveness of British industry.
'Right balance'
The business secretary says he is "unable to give clearance to the proposal as it stands" and calls for an urgent cabinet meeting.
Mr Cable writes: "Agreeing too aggressive a level risks burdening the UK economy, which would be detrimental to the UK, undermining the UK's competitiveness and our attractiveness as a place to do business.
"I have a number of concerns about supporting the Committee on Climate Change's (CCC) recommended level at this time.
"It is important that we strike the right balance between our pursuit to decarbonise the UK economy whilst ensuring that UK economic growth and employment is sustained."
Labour seized on the apparent disagreement, saying it left Prime Minister David Cameron's commitment to lead the greenest government ever "in shreds".
"Instead of a government leading the fight against climate change, we have ministers at war with one another," said Shadow Climate Change Secretary Meg Hillier. "Ministers have one last chance to prove they take climate change seriously."
'Green betrayal'
The opposition have challenged Mr Huhne to accept the CCC's recommendations in full, to guarantee low-income households will be prioritised in plans to insulate homes - part of the proposed Energy Bill discussed by MPs on Tuesday - and make a "clear commitment" that carbon reduction targets will not be watered down as part of efforts to alleviate red tape on industry.
"Chris Huhne has failed to show leadership and failed to win the Whitehall battle with the Treasury," Ms Hillier added.
"The leaked letters show that the government's commitment to a low-carbon economy is being contested by ministers. That would be a great green betrayal.
"Chris Huhne is a weak secretary of state, at a time when we need strong leadership to tackle the gravest threat to our planet's future."
Asked about the row in the Commons, Mr Huhne said the government would be announcing the content of the next carbon budget in "due course".
And he added: "You can take it from me, as a former journalist on the Guardian, you should not always believe everything that you read."
Draughty homes
BBC environment analyst Roger Harrabin said the issue was likely to come to a head at a cabinet meeting next week.
Friends of the Earth said it was "astonishing that Vince Cable is urging the government to snub its key adviser's call for tougher climate targets".
"Chris Huhne must make it clear that the credibility of both the coalition and his party are at stake. If the government won't stand up for climate action he should stand down," Andy Atkins, the pressure group's executive director, said.
During Tuesday's debate, Mr Huhne said the Green Deal insulation plan would be the "most comprehensive energy-saving plan in the world".
He also told MPs that owners of draughty, energy-inefficient homes would be forced to improve them before they could be let commercially and landlords would be banned from renting out properties that do not meet minimum standards from 2018.