Parliament could become wedding reception venue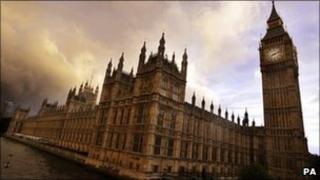 The Palace of Westminster could host wedding receptions under plans to cut Parliament's subsidised catering bill.
The Commons Administration Committee has suggested even the historic Westminster Hall could be hired out for private functions at £25,000 a time.
Dining areas including the Terrace alongside the River Thames may also be opened to the public.
They are among proposals aimed at halving the £5.7m annual loss made by the catering operation at Westminster.
Security question
The cross-party committee of MPs said that healthier lifestyles and stricter working practices had reduced formal lunching and left Parliament's four main dining rooms underoccupied.
Although steps have been taken to cut losses, including prices rises last year to raise an extra £1.27m, the committee said it was reasonable to maintain some subsidy for the 13,000 people working at Westminster, given Parliament's irregular hours and long recesses.
The MPs said it was "neither feasible nor desirable" to allow members of the public access to facilities when the House was sitting.
But their report added: "We are, however, not opposed in principle, and so long as any concerns raised by the Serjeant at Arms about security can be overcome, to opening the Strangers' and other facilities to the public on non-sitting days, including weekends and recesses, if all costs can be covered and the service offered profitably.
"Again, so long as a security concern is dealt with, we believe that allowing public access to the Terrace Pavilion for an afternoon tea service for those who have taken tours would raise revenue for the House and contribute in a minor way to the strategic goal of promoting public knowledge and understanding of the work and the role of Parliament through the provision of information and access."
Gunpowder plot
Opening up the facilities to the public would need the approval of the House of Commons, House of Lords and the Queen.
Another committee headed by the Speaker would have to decide whether to share these facilities with outsiders.
Westminster Hall hosted the trials of Charles I and the Gunpowder Plot conspirators, and the lying in state of monarchs and former prime ministers William Gladstone and Sir Winston Churchill.