UKIP rejects post-election call for leader Farage to go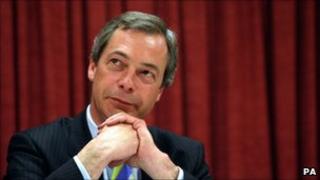 The UK Independence Party (UKIP) has rejected calls by one of its MEPs for leader Nigel Farage to stand down after it failed to make a breakthrough in English council elections.
The party made no net gains despite Mr Farage suggesting beforehand that it could double its 19 councillors.
Marta Andreasen said Mr Farage had "abjectly failed" and should go.
But the party said he had been elected as leader six months before with the highest ever share of the party vote.
Before last week's elections Mr Farage had suggested the party was on course for "significant gains" but, as it was, it secured just seven seats of those up for election - no improvement on four years before.
'Angry'
Ms Andreasen, a former European Commission chief accountant who was sacked in 2004 after she claimed the EU budget was open to fraud and abuse, said the results were a "bitter disappointment".
"Party members and supporters are justifiably angry," she said.
"After promises of success and claims that the party would triple the number of its seats, after large amounts of party members and donors money was spent on what was a poorly led campaign, the result was frankly dismal."
The blame for the party's performance must rest with its leadership, not activists or candidates, she added.
"Mr Farage has abjectly failed to deliver and is not leading the party on the course to victory," she said.
"I am calling on him to step down as leader of UKIP and make room for a new leader who resonates more with the public and who will move us forward to where I know we should be."
Miss Andreasen has clashed with senior UKIP figures in the past and in 2009 quit as its treasurer after disagreements with the party chairman.
More votes
A UKIP spokesman described the row with Mr Farage as an "internal party matter" that would be dealt with in an appropriate fashion.
"She has her opinion and she is entitled to that but it is not one shared by the majority of the party," he said.
He pointed out that Mr Farage had been overwhelmingly re-elected as party leader in November - his second stint in the job.
"I don't believe the party is going to think we have had it with him."
UKIP sources pointed out that while its performance in the English local elections was not "startling", the party had secured more votes than in any previous local election and had come second in more wards than ever before.
The party came second to the Conservatives at the 2009 European Parliament elections but it has never done well in town hall elections.
It had poured more resources - and candidates - into Thursday's contest in the hope of capitalising on strong performances in recent Westminster by-elections.