Ed Miliband says Labour to 'learn election lessons'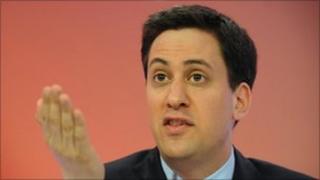 Labour must learn "deep lessons" from its defeat in Scotland and English local election results, leader Ed Miliband has said.
The party made strong gains in town halls in the north of England at the expense of the Lib Dems.
But it was wiped out by the SNP in key Scottish heartlands and fell just short of an overall majority in Wales.
Speaking on BBC One's Andrew Marr Show, he urged Lib Dem ministers to "change course" and abandon the coalition.
Mr Miliband said Labour "made progress" in last week's elections but the results were a "staging post" on the way back to power.
"I am the first person to recognise that we have a long way to go to recover from where we were at the last general election and win back the trust of people to win the next general election," he said.
He also reflected on the party's poor election results last week in Scotland, which saw the SNP take key seats in Labour heartlands to achieve an overall majority at Holyrood.
The Labour leader said: "I think that there was a context in this election where you had two parties, Labour and the SNP, fighting essentially against the Tory government in London.
"We did not sufficiently set out a compelling and clear alternative to what Alex Salmond is proposing for the future of Scotland."
The SNP now has a clear majority in the 129-seat Scottish Parliament, which means it has enough votes to hold an independence referendum.
'Courage of convictions'
Mr Miliband said his party was opposed to Scottish independence and must set out an alternative vision.
"I don't think the majority of people in Scotland want independence or separatism and we've got to argue strongly against it," he said.
"If there is a referendum in Scotland I think we can win that argument, I'm convinced we can win that argument, and we will fight for the United Kingdom."
The Labour leader said the poor performance of the Lib Dems across much of the UK in Thursday's elections was a message from the party's "former voters".
Mr Miliband urged Lib Dem ministers to hear this message, which he said was the voicing of disaffection at them being "led by the nose by a Conservative government" and changing their stance on issues such as tuition fees, economic policies and the NHS.
"What I am saying to them is that you should change course. You should have the courage of the convictions you went before the electorate with a year ago.
"And frankly, if I was in your position and I didn't get that change in direction, I wouldn't stay in this government."
Education Bill amendment
In the Observer newspaper, the Labour leader said he would be prepared to "work with any Liberal Democrats" against the Tories.
He said it is "late, but not too late" for Liberal Democrat ministers to abandon the coalition government.
Meanwhile, shadow education secretary Andy Burnham has challenged Lib Dem MPs to demonstrate their independence from the Tories by voting for Labour amendments to the Education Bill on Wednesday.
Mr Burnham said the bill, in its current form, would create a "free-for-all" in education.
The shadow education secretary said his amendments would require all teachers employed in state schools to be properly qualified, ensure a fair admissions system and provide good quality careers advice for all pupils.
Mr Burnham told Sky News's Murnaghan programme: "We are saying to the Liberal Democrats we can better reflect what the country voted for last May if you work with us to stop these right-wing reforms to our public services.
"I think that the new phase in politics we are about to enter, the test for the Liberal Democrats is - with this language about change and a new phase in the coalition - if they really mean it, they need to come with us and help us stop some of these reforms."