Labour holds Leicester South in by-election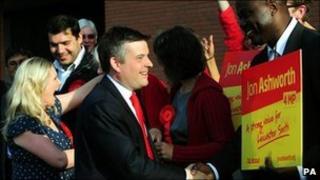 Labour has held Leicester South in Thursday's parliamentary by-election for the constituency.
The party's candidate Jon Ashworth won the seat with 19,771 votes, with Zuffar Haq of the Liberal Democrats in second place with 7,693 votes.
Conservative Jane Hunt came third with 5,169 votes.
The election was called after MP Sir Peter Soulsby stood down to run in the race to become Leicester's first directly elected mayor, which he won.
Sir Peter beat 10 other candidates to become mayor after winning more than 50% of the vote.
Conservative Ross Grant came second in the mayoral race and independent Rick Moore was third.