Vote 2011: Scots result could change everything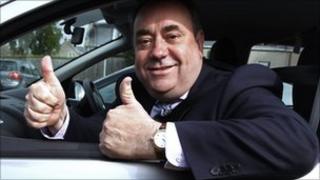 These have been Scottish elections like no other.
The consequences will be felt across the UK for years, potentially changing the political shape of the country permanently.
Labour has seen a clear lead in the polls from a few months ago transformed into a crushing defeat.
A Parliament many thought would always host coalitions or minority governments has a SNP majority.
And a referendum on independence once considered a nationalist dream now appears a certainty.
The fight over the outcome of that poll will capture the attention of politicians across the UK.
The SNP is unlikely to stage a referendum quickly; there is much campaigning to do.
Opinion polls suggest Scottish voters currently oppose full independence, and a vote for the SNP in a parliamentary election is not the same as a vote for an independent Scotland.
Prime Minister David Cameron, though, has already signalled his intention to fight the SNP.
'Dogma'
He said: "If they want to hold a referendum, I will campaign to keep our United Kingdom together, with every single fibre that I have."
Labour leader Ed Miliband will also support the union. He has accused the SNP of pursuing a "dogma" of independence.
It will not have escaped the attention of Labour loyalists that Scottish independence would permanently damage Labour's chances of governing at Westminster.
The party has 41 seats in Scotland there and would be by far the biggest electoral loser if the nation were no longer represented in the House of Commons.
More immediately, there are the campaign post mortems to take place.
The results have already cost Labour's leader in Scotland - Iain Gray - his job. He will stand down in the autumn after a "root and branch" review of his party's structure and strategy.
'Efficiency savings'
This is Labour's worst electoral performance in Scotland since at least 1931, but forecasts also suggest it will turn out to be the worst Conservative result ever and the worst Liberal Democrat performance since 1979.
While his opponents pick over the bones of their failed campaigns, Scotland's first minister Alex Salmond has difficult decisions to make.
Like other leaders he will have the challenge of being in charge in a time of cuts.
The SNP has already promised 3% "efficiency savings" across the public sector for 2011-12, with further "efficiencies" up to 2014-15.
If those start to hurt, the SNP now governing alone could find itself being held responsible for the pain.
Unlike other parties though, the SNP will be able to buoy its bumper crop of MSPs with the possibility the party's founding ideal could be realised.