Vote 2011: Lib Dem gloom in Clegg's Sheffield powerbase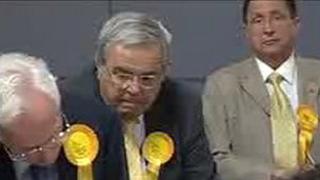 Liberal Democrats could only stand and watch as a power base they had spent over a decade building up in Sheffield came crashing down after just one year of their party being in government at Westminster for the first time.
Liberal Democrat leader in Sheffield, Paul Scriven, refused to blame Deputy Prime Minister Nick Clegg and called the loss of nine seats on the city council to Labour a "short term" setback.
His definition of "short term" did seem a bit elastic. He admitted he was talking years rather than bouncing back at the next election.
David Blunkett, veteran Sheffield Labour MP, former cabinet minister and once the leader of the city council himself, had a less charitable view of the deputy prime minister's role in the crushing of the Lib Dems.
"I think Cleggmania is now Clegg pneumonia," he told the BBC a couple of hours before the Sheffield results started to roll in.
Pendulum
At that point he predicted Labour would take six seats from the Liberal Democrats and saw that as a crushing victory.
It became a case of double political pneumonia for the Liberal Democrats as by 3.15am on Friday morning the final tally was a loss of three more seats than even David Blunkett had estimated.
It has left them with 32 seats to Labour's 49 with a couple of Greens and an Independent.
It is the pendulum swinging the other way in Sheffield.
As late as 2000 the Lib Dems had been seen as also-rans Sheffield with a handful of seats in a city Labour had ruled virtually uninterrupted since the 1930s. At times every seat on the council was held by a Labour councillor.
It had been at the heart of the so-called "People's Republic of South Yorkshire" which was the way in which the early Thatcher government saw the metropolitan county council of the time.
Thatcher dismantled metropolitan county councils but the socialist heart continued to beat strongly for another couple of decades in Sheffield.
Slowly, seat-by-seat, the Lib Dems built up enough support from an electorate looking for an alternative to a Labour administration which had failed to overcome industrial and economic blight but was unable to bring itself to vote Conservative.
Clegg failure
The Liberal Democrats were that obvious "alternative".
Two things brought its years of growing power to a complete halt.
Firstly, joining the coalition at Westminster. It is not coincidental that the Conservatives have not got a single councillor on the city council.
Second, what was seen as a failure by Nick Clegg to perform like any other MP and fight his city's corner.
The final straw was his refusal to condemn the withdrawal of a loan for the city's Forgemasters steel company which had been promised under the Labour government.
So will there be a backlash against Nick Clegg from within the party?
Well not a single Liberal Democrat at the Sheffield count broke ranks even as the night they would rather forget wore on.
Instead of calls for the head of his party leader Paul Scriven simply told David Blunkett to "grow up".
He claims this was a frightened and bewildered electorate who had believed Labour's negative campaign that there was a less painful way to overcome the country's economic ills.
But the rearguard action in favour of Nick Clegg was being staged just 12 hours before the counts started for the referendum on changing the voting system to AV.
Will his party still be so supportive if main benefit of his party's agreement to serve and support the coalition government turns out to be a dead duck?