Warning that EMA replacement 'could be discriminatory'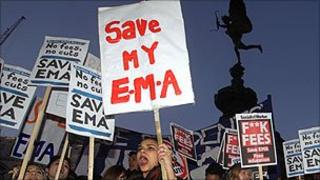 Plans to replace the Education Maintenance Allowance could lead to unintended discrimination, according to a government equalities assessment.
It says discrimination could occur because schools and colleges will decide which students get bursaries.
Sixteen to 19-year-olds in full-time education or training will be able to apply for the money for the coming academic year.
The assessment says the government is considering "some central arbitration".
The Equality Impact Assessment says the process is open to unintended discrimination on the basis of disability, gender or ethnicity.
'Flexibility'
The Department for Education is to set up bursaries totalling £180m a year to replace the Education Maintenance Allowance (EMA), which was worth £500m a year.
They are designed to help young people who face financial difficulties stay on in education.
Announcing the plans to the House of Commons in March, Education Secretary Michael Gove said schools and colleges would have the freedom to allocate the bursaries because they were best placed to know the specific needs of their students.
He added then: "We will give professionals full flexibility over allocating support."
The Impact Assessment says : "We will consider whether there should be some central arbitration of the discretionary administration of funding or at least ensure transparency of administration to evaluate the impact achieved by providers, including value for public money."
A Department for Education spokesman said: "As we have always said schools and college will have freedom in how they allocate the bursaries to their students. We want to work with colleges to make sure that money is fairly allocated.
"The fact is consultation has not yet finished but we will consider what mechanism might help support colleges and students in making sure the money gets to those who need it."
The government's consultation on how the bursary scheme will work comes to an end this month.
The assessment goes on to say the new scheme will deliver better value for money. It says while some young people will get less money there is no evidence the changes in financial support will have a disproportionate effect on those with disabilities, learning difficulties, or on either gender or those of different ethnicities.
The shadow education secretary Andy Burnham said: "Michael Gove promised a better scheme for the poorest young people but now his own department says it is open to discrimination.
"He has taken a successful scheme that was good value for the taxpayer and turned it into a complete shambles."
James Mills, from the campaign to keep the EMA, said: "We have been saying since day one that there would be grave equality issues brought up by removing EMA and the government has finally admitted this by whispering it out in their own Equality Impact Assessment hoping no one would notice."