Commons clash over cuts on last election campaign day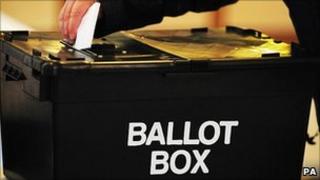 David Cameron and Ed Miliband have clashed over police cuts and tuition fees, on the last day of campaigning ahead of Thursday's elections.
Backbench MPs also used their questions to Mr Cameron to congratulate their own party's councils and criticise rivals.
Elections will be held in 279 English councils and a UK-wide referendum on the system for electing MPs.
There are also national elections to the Scottish Parliament, and Wales and Northern Ireland Assemblies.
And there is a by-election in Leicester South and several mayoral elections in England.
The last prime minister's questions before the polls began with Scottish Labour MP Jim McGovern criticising the Scottish National Party - whom his party hope to unseat in the Holyrood elections - and continued with a series of MPs using the weekly session to attack their rivals.
Labour's Ed Miliband accused Mr Cameron and Lib Dem deputy PM Nick Clegg of breaking a string of promises to voters - including on university tuition fees and police cuts.
'Hypocrisy'
Mr Miliband argued that experienced police officers were being "forcibly retired" because of cuts to forces' budgets. In response, Mr Cameron accused Labour of "utter hypocrisy" on the issue because, before the general election, they had not guaranteed police numbers would not fall under a Labour government.
The Labour leader used the issue of tuition fees to attack Lib Dem leader Mr Clegg, saying that most universities in England planned to charge the maximum £9,000 a year and said that the Office for Fair Access had admitted it would not cut the fees.
Mr Cameron said Labour had introduced tuition fees in the first place and accused Mr Miliband of breaking a promise to come up with a "fully costed alternative to our fees programme" by the end of 2010.
Lib Dem MP Bob Russell used the session to criticise first-past-the-post ahead of the alternative vote (AV) referendum, claiming it produced results "that would embarrass Robert Mugabe".
But he was drowned out by Conservative MPs' cheers as he argued that at last year's general election, the Conservatives got 49% of the votes in Essex but won 95% of the seats.
Mr Cameron said that under the current system, people got one vote, which was counted once. Campaigners against AV argue that the way it redistributes second preference votes means some people get their vote counted more times than others - something that is disputed by pro-AV campaigners, who argue first-past-the-post leads to wasted votes.
The Conservatives want to retain the existing first-past-the-post voting system, while their coalition colleagues, the Lib Dems, want AV. Labour is split on the issue, but leader Ed Miliband is in the Yes camp.
Under AV, if one candidate gets more than half the votes, they are elected straight away. If not, the candidate with the fewest votes drops out and their second preferences are handed out to remaining candidates.
AV tension
This process continues until someone gets over half the votes or no more votes can be distributed.
The battle between Yes and No to AV supporters has become increasingly tense, with reports of a confrontation between Lib Dem Energy Secretary Chris Huhne and the prime minister at a cabinet meeting on Tuesday.
Mr Miliband told Mr Cameron that while the two coalition parties had promised to work together in the national interest they were now "threatening to sue each other in their own interest".
The prime minister said, despite differences over AV, there was "as good an argument" today for the coalition as when it was formed to "clear up the mess that was made by [Labour]."
More than 9,500 seats are being contested in the English local elections. The Conservatives are defending about 5,000 seats, which were last contested in 2007. Labour and the Lib Dems are fighting to keep about 1,600 and 1,800 seats respectively.
Among the 36 metropolitan councils electing a third of their seats are Birmingham, Manchester, Liverpool and Sheffield. In addition, elections will be held in 49 unitary authorities and 194 district councils.
Mr Clegg visited Leicester South on Wednesday where a by-election is being held after the Labour MP, Peter Soulsby, stood down to take part in the first mayoral contest in the city.
Asked if a poor Lib Dem result would damage the coalition, he said he would not get into a "what if" game and: "Tomorrow is an important day for people to ask themselves who is best placed... to work for local communities." He said he hoped the "hard work, the dedication, the commitment of thousands of Liberal Democrat councillors" would be recognised.
Other parties, including the UK Independence Party, the Green Party and the British National Party, are also hoping to make electoral gains. The Greens currently have 117 councillors, UKIP have 19 and the BNP have 21 - but are defending only 12.
National polls
In Scotland, 129 MSPs will be elected to the Holyrood parliament - 73 through the constituency-based first-past-the-post system and 56 through a separate party list system in eight electoral regions.
At the last vote in 2007, the SNP emerged as the largest party and formed a minority government, but constituency boundaries have been significantly redrawn since then and one in six voters are now in a different seat.
In Wales, 60 Assembly Members will be elected - again using a mixture of first-past-the-post voting linked to constituencies and AMs elected from a party list.
This is the first poll in Wales since 2007, after which Labour formed a coalition with Plaid Cymru.
In Northern Ireland, 108 seats at the Stormont Assembly are up for grabs.
Currently, the Democratic Unionists are the largest party in the power-sharing body with eight more seats than Sinn Fein.
Northern Ireland voters will also go the polls to elect 582 councillors in the first local elections for six years.
As well as Leicester, polls will also be held to elect mayors in Middlesbrough, Mansfield, Bedford and Torbay.
According to a ComRes poll of 1,033 people for the Independent, support for the No to AV campaign has grown in the past week. The survey found that 66% of respondents were opposed to AV, while 34% supported it - compared with 60% and 40% respectively a week ago.