AV referendum: Cameron 'not responsible for No to AV'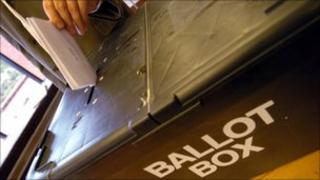 David Cameron has distanced himself from the official No to AV campaign ahead of Thursday's referendum.
The PM said he was only responsible for the Tory No campaign and the cross-party group "can defend themselves".
But he refused to condemn the No group's "robust" tactics such as using images of a sick baby.
Deputy PM Nick Clegg, who backs the Yes campaign, said first-past-the-post was outdated and accused the no camp of "misinformation".
Campaigners for and against changing from first-past-the-post in Westminster elections to the alternative vote are due to hold their last big rallies before the referendum on Thursday.
The campaign - which pitches Conservatives against their coalition partners, the Liberal Democrats and has split opinion within the Labour Party - has seen increasing tension between government ministers.
'Quite worrying'
At the start of the campaign, the official "no" campaign released posters suggesting that introducing AV would cost £250m - because they argue new counting machines and a public information campaign would be required- and that the money would be better spent on cardiac facilities for ill babies, or body armour for British troops.
Mr Cameron, who is a patron of the official No campaign, told BBC Radio 4's Today's programme he was "directly responsible" only for the official Conservative Party no campaign.
But repeated claims AV would "very likely" mean new electronic counting machines - something the yes campaign disputes.
Asked to condemn posters suggesting babies and soldiers' lives would be put at risk if AV was introduced he said: "I choose to support my own campaign, which has not made that argument but the fact is if you move to a new voting system it will cost money."
Cross party campaign
He also clashed with the BBC's John Humphrys over the No camp's argument that under AV some people's votes are counted more than others - due to the way second preference votes are redistributed.
Mr Cameron accused the Today programme interviewer of being "completely wrong" about the way AV works: "That's quite worrying if actual the lead broadcaster on the BBC doesn't understand the system."
Some Lib Dems have reacted angrily to the cross-party No campaign - which shares some financial backers with the Conservatives - and have said Mr Cameron could have stopped it from attacking Lib Dem leader Nick Clegg.
But a spokesman for the No campaign said the fact that it was able to use Mr Clegg on its leaflets proved that it was independent from the Conservative Party.
He denied Mr Cameron had distanced himself from the No campaign, saying the prime minister was "articulating the divide between No to AV and himself".
In a separate interview Deputy PM Mr Clegg told the BBC that "perhaps naively" he had expected the referendum campaign not to feature politicians so prominently, and he and Mr Cameron could take a more "standoffish" stance.
He said Thursday's referendum was a rare opportunity to "modernise our democracy - move with the times" and repeated his argument that switching to AV would make voting system "a bit fairer" and make politicians work harder for a broader selection of votes.
Asked whether the coalition would change after the vote, Mr Clegg said that during its first year, in which difficult spending decisions had been made, "real collective discipline" had been required.
But he added: "Over time, inevitably, the different identities, different values of the two parties - because we are different parties, always have been always will be - would kind of come out in the wash a bit more.
"And I think that is probably happening in part because of this referendum."
Labour leader Ed Miliband said he did not accept that the AV result was a "foregone conclusion" - amid opinion polls suggestions that the Yes campaign is heading for defeat - adding: "Let's see what happens on Thursday."
He said there was an "honourable tradition" within his own party of opposing views on AV and denied using the system at Westminster elections would definitely mean more coalition governments.
"At the moment when we got into election campaigns we have no alternative other than to say 'we hate everyone equally' because that's what first-past-the-post encourages, whereas the whole thing about an alternative vote system is you must seek people's second and third preferences."
He said it could help create a politics which "builds bridges" rather than divides.
He also defended his decision to refuse to share a Yes campaign platform with Nick Clegg due to his perceived unpopularity with voters.
"There's a reason the no campaign want to make Nick Clegg the poster child for their campaign," said the Labour leader.
At the No campaign's rally later, at which Olympic rower James Cracknell, Foreign Secretary William Hague and former Labour minister Lord Boateng will be among speakers, they will argue that AV could embed the Lib Dems in government for generations.
They will also unveil research on how much it will cost individual councils to stage the referendum.
Comedian Eddie Izzard and the former Liberal Democrat leader Lord Ashdown are due to address the Yes rally.
They will claim that politicians with safe seats under first-past-the-post earn more money from second jobs and that reform would force MPs to spend more time working for their constituents.