Royal wedding: Cameron hails 'great moment for Britain'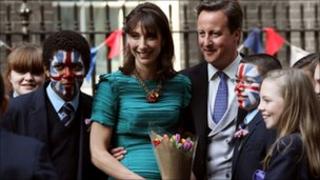 David Cameron has hailed the wedding of Prince William and Catherine Middleton as a "great moment for Britain".
The prime minister, who hosted a party in Downing Street, said: "There's no greater country and better place to be than right here, right now."
He described the wedding, in Westminster Abbey, as "incredibly romantic and moving".
Labour leader Ed Miliband and Lib Dem leader and deputy PM Nick Clegg also attended the service.
Writing on Twitter, Mr Miliband said: "Lovely service. Wish the happy couple all the best for the future. Hope everybody is enjoying the day."
Mr Cameron said his his lasting memory of the day would be seeing William and Catherine make their vows at the altar.
The church service was watched by 1,900 guests - but police estimate a million people lined the procession route from the abbey to Buckingham Palace, where the newlyweds were cheered as they kissed twice on the balcony.
'Amazing ceremony'
After the service, Mr Cameron hosted a street party outside his Downing Street home, with guests including children from local schools and representatives of Age UK, Contact the Elderly and other charities.
Conservative Party chair Baroness Sayeeda Warsi, wearing a union jack-patterned shawl, mingled with guests, including four youngsters who raised money for Save the Children's emergency appeal following the Japanese earthquake and tsunami.
Guests were entertained by a five-piece band and were able to watch celebrations taking place elsewhere on a big television screen.
Mr Cameron, who in 1981 camped out overnight to see the wedding of William's mother Diana to Prince Charles, said singing Jerusalem in the abbey with an orchestra made him feel like "the roof was going to lift off".
He added: "It was beautiful to see two people who really love each other and who are incredibly happy at an amazing ceremony.
"It's a day when we see 'the new team'. It was incredibly romantic and moving."
He added: "Although it was a grand occasion, that was a family wedding moment. It was incredibly intimate and moving."
Mr Cameron said the day was "not just about the beautiful princess and handsome prince", but a day when Britain celebrated the monarchy itself.
"It's a great moment for Britain, a moment when everyone is celebrating and it's being watched round the world where people will see lots of things they love about Britain," he said.
"The ceremonial, the pageantry, the Royal Family, the institution - but also this beautiful young couple who love each other very much."
Quizzed about his wife's decision not to wear a hat for the service, Mr Cameron, who is hosting a street party in Downing Street, said she was "wearing something in her hair," but joked: "Don't test me on that sort of thing".
He said Samantha "looked amazing as she always does".