Royal wedding: Labour rejects Hain BBC coverage claim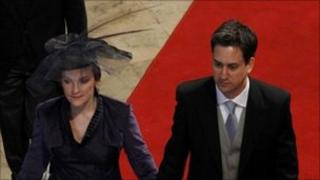 Shadow minister Peter Hain has been slapped down by his own party for allegedly trying to make a political row out of the royal wedding.
Mr Hain said Labour leader Ed Miliband had been snubbed by BBC TV coverage and that cameras had focused on PM David Cameron and deputy PM Nick Clegg.
A senior Labour source said getting on camera was "the last thing" Mr Miliband and his fiancee were concerned about.
The BBC said images of Mr Miliband at Westminster Abbey had been used.
A spokesman for the corporation said: "Ed Miliband was shown during this morning's broadcast and there were shots of him arriving at the abbey."
Mr Hain, the shadow Welsh secretary, made his comments on Twitter, writing: "Loads of TV coverage of Cameron and Clegg at wedding but none of Ed. BBC airbrushing Labour like the palace?"
Some Labour MPs had expressed anger at the palace's decision not to invite former Prime Ministers Tony Blair and Gordon Brown to the wedding, when their Conservative predecessors Margaret Thatcher and John Major were both on the guest list.
'Celebration'
Mr Hain's tweet sparked a flurry of negative comments, prompting him to post a second message: "Congratulations to the happy couple - a great occasion."
But his complaint was echoed by a second Labour MP, Sharon Hodgson, who said in her own online message: "I never saw Ed & Justine once and watched from 9am! Shameful BBC!".
A Labour source insisted the party did not share the MPs' concern about the coverage for Mr Miliband and his fiancee Justine Thornton, who are due to get married themselves later this month.
The source said: "The last thing Ed and Justine are worried about is getting on television on William and Kate's big day. It should just be about them.
"No-one should be trying to make a political row on this day of celebration."
Ms Hodgson, MP for Washington and Sunderland South, also criticised the prime minister's wife, Samantha Cameron, for not wearing a hat for the ceremony.
"Was Sam Cam only woman without a hat/fascinator? She looked way too casual in just a dress - as if off to a picnic," she tweeted.
Quizzed about his wife's decision not to wear a hat, Mr Cameron, who is hosting a street party in Downing Street, said she was "wearing something in her hair," but joked: "Don't test me on that sort of thing".
He said Samantha "looked amazing as she always does" and he said it felt "life a fairytale to be inside Westminster Abbey" for the royal wedding.
"It was very romantic and moving to be there. They obviously love each other very much."