Election to be held in July for House of Lords Speaker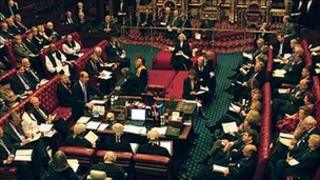 An election for the post of Speaker of the House of Lords will be held in July, peers have announced.
Incumbent Baroness Hayman is approaching the end of her five-year term and has not yet said whether she will stand for the role again.
The ex-Labour minister is the first person to hold the role, created in 2005 when the Blair government reduced the powers of the Lord Chancellor.
The Lord Speaker has fewer powers than her counterpart in the Commons.
Baroness Hayman chairs debates in the Upper Chamber from the traditional woolsack, offers advice on procedural matters and acts as ambassador for the work of the House.
However, her role is much more limited than that of Commons Speaker John Bercow, as she is not authorised to call members to speak, rule on points of order, select amendments to bills or to discipline members.
She was elected in 2006, under the alternative vote system, beating eight other candidates.
Under election rules drawn up by the Lords, candidates for the post must register by 23 June.
If the election is contested, voting will take place on 13 July, with the result announced five days later.