Royal wedding: Straw's surprise at Blair/Brown 'snub'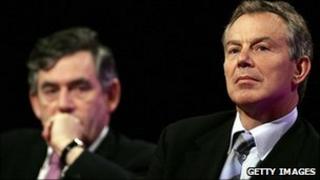 Former Foreign Secretary Jack Straw has told the BBC he is "surprised" Tony Blair and Gordon Brown are not on the guest list for the royal wedding.
The two former Labour premiers were not invited, while Tory ex-PMs Sir John Major and Baroness Thatcher were.
St James's Palace says they were not invited because they are not Knights of the Garter.
Mr Blair's spokesman said it was "not an issue", while Mr Brown announced he would still "join in" the celebrations.
More than 200 of the guests invited to Westminster Abbey on Friday have been drawn from the ranks of government, Parliament and the diplomatic corps.
'No conspiracy'
Some Labour figures have questioned the decision not to invite the two Labour former prime ministers while inviting their Conservative predecessors.
However, a spokeswoman for Mr Brown said: "Gordon and Sarah both wish Prince William and Kate Middleton every happiness for the future. They will be joining in celebrating their marriage like all of Britain and lots of people around the world."
She declined to comment on the lack of an invitation to Mr Brown.
Baroness Thatcher will not attend, due to ill health, but Sir John will be at the wedding.
At the marriage of Prince Charles and Lady Diana Spencer in 1981, all living former prime ministers were invited.
Current Prime Minister David Cameron, his deputy Nick Clegg, Labour leader Ed Miliband and House of Commons Speaker John Bercow will be at Westminster Abbey for the ceremony.
Mr Straw told BBC Radio 4's Today programme he did not believe there was a "conspiracy" about the omission of Mr Blair and Mr Brown but said: "I frankly was surprised that two former prime ministers were not invited whereas in the equivalent situation in 1981, they were.
"My guess is that, reviewing the way the guest list has worked, in retrospect I think the decision-makers probably would have made some different decisions both in respect of former prime ministers and in respect of the number of ambassadors being invited."
He said Mr Blair and Mr Brown should have been invited and, while protocol had to be followed over the initial invitation to the Syrian ambassador, "there may have been a way in those rules to ensure that he was somewhere else".
St James's Palace said William and Kate had been in charge of the guest list, but had "worked closely with the Queen's and Prince of Wales' households where necessary".
"Sir John Major and Baroness Thatcher were invited as they are both Knights of the Garter, along with Prince William," a spokesman said.
"Furthermore, Sir John Major has a personal connection to Prince William, as he was appointed guardian to Prince William and Prince Harry following the death of the late Diana, Princess of Wales.
"This is a private wedding and not a state occasion, unlike [the Queen's wedding] in 1947 or 1981, so there is no protocol reason to invite former prime ministers."
The Most Noble Order of the Garter, founded in the 14th Century, is considered the pinnacle of the British honours system, with a maximum of 24 Knights and Ladies of the Garter in place at any one time.
They are chosen by the reigning sovereign for services to the monarchy or for their contribution to national life.
Baroness Thatcher was admitted in 1995 to the order, said to be based on the legend of King Arthur and the Knights of the Round Table, and Sir John was admitted in 2005.
Other confirmed royal wedding guests include former England rugby coach Sir Clive Woodward, footballer David Beckham, singer Victoria Beckham and Conservative MP Richard Benyon.