UK summons Syrian ambassador to urge end to violence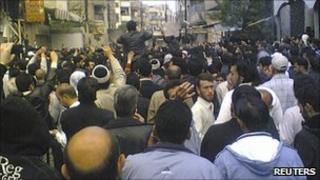 The Foreign Office has summoned Syria's ambassador in London to reiterate its call for the violent crackdown on anti-government protesters there to stop.
Officials said they had told Dr Sami Khiyami that the repression of demonstrators across the country was "unacceptable" and attacks must end.
Hundreds of people are reported to have been killed since pro-democracy protests began in Syria last month.
Foreign Secretary William Hague has said Syria is "at a fork in the road".
He has urged the Syrian government, led by President Bashar Al-Assad, to show it is committed to "the path of reform" by ending 50-year emergency powers under which security forces have sweeping powers of arrest and detention.
'Held to account'
In a statement, the Foreign Office said it had called in Syria's top diplomat in the UK - in conjunction with similar moves in other EU nations - "to reinforce the depth of international concern about Syria's recent brutal crackdown".
"Permanent Under Secretary Simon Fraser underlined Britain's condemnation of the unacceptable use of force against protesters, particularly the deployment of the Syrian Army in Deraa and Douma and the high level of casualties over the weekend," it said.
"He reiterated that the Syrian government must immediately halt all attacks against protesters and restrain the army and security forces.
"He made clear that the perpetrators of violence against civilian would be held to account and that it was vital that the government of Syria responded to the legitimate demands of the Syrian people with reform and not repression."
Speaking earlier on Wednesday, Mr Hague said that "words were not enough" and President Assad must take immediate action to meet the demands of his people for greater political freedoms.
"You can imagine him as a reformer," he told BBC Radio Four's Today programme.
"One of the difficulties in Syria is that President Assad's power depends on wider group of people. in his family and in other members of his government, and I am not sure how free he is to pursue a reform agenda."
Mr Hague said the UK would continue to engage with the Syrian government and would not be recalling its ambassador from Damascus - as it did in Libya following the brutal crackdown on the uprising there.
The US, France and Italy have warned Syria that it faces sanctions if it does not stop the violence.