UK foreign secretary demands end to Syria violence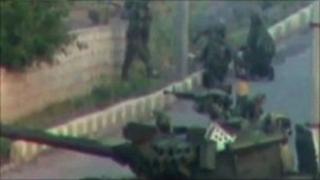 UK Foreign Secretary William Hague has said he "utterly condemns" the violence being used by Syrian forces against pro-democracy demonstrators.
He demanded "accountability for the deaths that have occurred" and said the UK and its partners were considering the use of "further measures" against Damascus, including sanctions.
Activists say more than 20 people were killed on Monday by government forces.
All UK citizens in Syria are being advised to leave as soon as possible.
Mr Hague said there were about 700 British nationals currently living in Syria and registered with the UK Foreign Office.
But he pointed out that some of those would have dual nationality and the government did not assume that all of them would wish to leave.
'Genuine reform'
At least 350 people have reportedly been killed since mid-March in protests calling for political reform. Many demonstrators are demanding that President Bashar al-Assad step down, but those calls have been met with an intensified crackdown in recent days.
In a statement to the Commons , Mr Hague said Syria was "at a fork in the road".
"Its government can still choose to bring about the radical reform which alone can bring about peace and stability... or it can choose ever more violent repression," he said.
"If it does so, we will work with our European partners and others to take measures including sanctions that will have an impact on the regime."
The foreign secretary said that from what he had learned at a meeting with President Assad in January, he believed the popular uprising would have "come as a surprise" to the Syrian government.
Earlier, in a written statement issued by the Foreign Office, Mr Hague said the UK was "working intensively with our international partners to persuade the Syrian authorities to stop the violence".
"This includes working with our partners on the United Nations Security Council to send a strong signal to the Syrian authorities that the eyes of the international community are on Syria, and with our partners in the EU and the region on possible further measures."
Mr Hague's intervention came as the UK, France, Germany and Portugal are reported to have drawn up a draft statement condemning the violence, which is being circulated among other United Nations members.
The Foreign Office is advising against all travel to Syria and urging any British nationals in the country to leave.
It is warning those who choose to remain that they are unlikely to receive full consular support from the British Embassy in the event of the situation worsening.
The United States is also advising its citizens to leave Syria and the state department says some non-essential embassy staff and all embassy dependants will be recalled.
US officials also say the Obama administration is considering imposing sanctions on President Assad's government.
On Monday, tanks were sent into Deraa, the town at the centre of protests, and activists say troops opened fire killing more than 25 people - although that claim has not been independently verified.
Security forces also reportedly opened fire in a suburb of Damascus on Monday, and there are unconfirmed reports of further shooting in Deraa on Tuesday.