AV referendum: Commission 'cannot investigate untruths'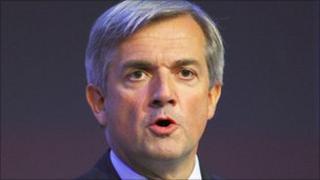 The Electoral Commission says it cannot investigate claims of dishonesty during the AV referendum campaign.
Liberal Democrat minister Chris Huhne threatened legal action over "untruths" he said had been told by Conservatives opposed to the Alternative Vote system.
There are special laws regarding claims of dishonesty during parliamentary election campaigns.
The commission told the BBC there is no body with the power to investigate claims during a referendum campaign.
The 5 May referendum was a Liberal Democrat condition for entering coalition with the Tories.
But with all Lib Dems in the Cabinet backing the change and their Tory colleagues speaking against it, the two parties making up the coalition have been increasingly pitted against one another during the campaign.
'Stop whinging'
Chris Huhne, who refused to rule out resigning as energy secretary over the tensions, said on Sunday that Tory ministers backing the No campaign undermined their credibility by making false claims about the costs of introducing AV.
He threatened legal action over the "extraordinary allegation" by Chancellor George Osborne that expensive new voting machines would be needed to count the votes after an election held under AV rules.
"Australia's used [AV] for 80 years without ever using voting machines. If they can't substantiate that, there's simple legal redress," he said. "They had better come clean pretty fast."
Meanwhile, a leading Conservative backbencher has told Mr Clegg and Mr Huhne to "stop their whinging" about the way opponents of the alternative vote are campaigning.
Mark Pritchard MP, Secretary of the 1922 Committee, said: "With each of them presiding over major government departments they've never had it so good.
"Their personal and political sacrifices are infinitesimal compared to those made by hundreds of public sector workers losing their jobs each week and many of my Conservative colleagues who gave up ministerial office for the sake of the coalition".
Playing down the disagreement, former Lib Dem leader Sir Menzies Campbell said Labour was just as divided on the issue of AV.
"Of course we also know there are quite a few Conservatives not fully reconciled to the coalition," he told BBC Radio 4's Today programme.
"Perhaps they will be satisfied by the notion that David Cameron is not rolling over in front of Nick Clegg."
Former Tory leader Lord Howard said there was a "very important issue at stake" in the referendum, and both coalition partners had "different views".
"The truth is that these are two parties with different traditions and different views on many issues, which have come together to work together for the good of the country," he said.
"The need for them to work together in the good of the country is going to be just as great on 6 May."