English local elections: Lib Dem prospects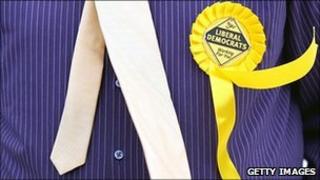 The English local elections will be a landmark for the Liberal Democrats - the first time in decades the party has fought such a contest as a party of government.
Party members, from leader Nick Clegg downwards, will be hoping that it does not also go down in history as the election when all of the gains they have so meticulously built up in local government over the years are wiped out overnight.
The party is proud of the fact that it runs major cities such as Newcastle and Sheffield - but national opinion poll ratings suggest they may not be able to trumpet this achievement for much longer.
Polling expert Professor Paul Whitely, of the Lib Dem think tank Centre Forum, gave party chiefs, including Chris Huhne, a frank assessment of their prospects at the party's spring conference in Sheffield last month.
"I am not going to lie to you, it is bad," he told the meeting, adding that their best hope of recovery was to pick more public fights with their coalition partners the Conservatives - a message Mr Huhne and some of his colleagues appear to have taken to heart in the battle over the alternative vote referendum being held on the same day.
The Lib Dems currently control 22 English councils - 19 of which are subject to elections this year - and run several more on a minority basis. About half of their 3,621 council seats will be contested on 5 May.
But their continued poor performance in the polls has prompted speculation they could lose half their councils and about 700 councillors.
'Bit of a watershed'
Former Lib Dem leader of Liverpool Council, Warren Bradley, warned weeks ago that the party faced disappearing "into the annals of history", because of coalition policies.
Mr Bradley has since been suspended by the party over electoral fraud allegations - denied by him - which are being investigated by police.
But his fears over the party's future will have struck a chord with many grassroots activists.
More than 90 Lib Dem councillors - including 18 council leaders - signed a letter to the Times in February criticising the scale of government spending cuts.
And party president Tim Farron recently told the same newspaper that the elections would be "a bit of a watershed in one way or another" and he would focus on rebuilding the party's base afterwards: "I don't expect us to do brilliantly but it will be catharsis to go through it".
Since last May's general election the Lib Dems have been battered by criticism of their support for a large hike in the cap on university tuition fees and for spending cuts.
The number of candidates being fielded by the party appears to be down on local elections in 2007 - something the Lib Dems blame on the move to being a "party of power".
It says it has some strong, hard working candidates and will focus on its local record, and the "distinctive things we're doing in government".
'Take fight to Tories'
Whatever happens the party will keep control of four of its 22 councils - three of which have no elections and in the fourth, Eastleigh, it has a majority of 28 seats, only 12 of which are being contested.
In the North of England the Lib Dems face the biggest threat from Labour - who are going all out to woo Lib Dem voters.
Nick Clegg has insisted Lib Dem councils have been able to avoid some of the cuts to services being enacted by Labour-controlled authorities, even suggesting Labour's actions might be a politically-motivated attempt to shame the coalition.
Labour leader Ed Miliband has denied such claims, but he has made a direct appeal to Lib Dem voters, saying it is "becoming clearer the Liberal Democrats can no longer claim to represent the values for which so many voted at the last election".
If the Lib Dems lose Stockport, Hull and Newcastle - all councils where they have a majority of just 3 or four seats - they will no longer control local authorities in any of the big northern cities.
The party also runs a number of other councils on a minority basis and in some they need to gain just one or two seats to take control outright - including Sheffield, where Mr Clegg has his constituency.
Labour will also be hoping to take some seats off the Lib Dems in the South, where it has seen a fallback in support since 1997, by replacing them as the "anti-Conservative" vote.
Loyal support
While the Lib Dems may face a backlash against government policies in some areas, in many it is the Conservatives who are their main threat.
Mr Clegg himself has told activists not to shy from criticising the Conservatives at a local level, telling them coalition did not mean "we shouldn't be taking the fight to the Tories in local elections".
Of the 19 Lib Dem controlled councils where seats are being contested - the Conservatives are the second biggest party on 12.
In Lewes, a council the Lib Dems have held for 20 years, the party needs to lose only one seat to lose its majority.
And in the mayoral election in Bedford is expected to be hotly contested between the two coalition partners - Lib Dem Dave Hodgson narrowly beat his Conservative opponent in a by-election in 2009.
Elections analyst Professor Colin Rallings believes the Lib Dems will face their biggest challenge in urban northern seats because, before entering government, they had "set themselves up as a kind of left-of-centre alternative".
But he said while national poll ratings suggested they could be wiped out - the party had held up better in council by-elections up and down the country, suggesting their core loyal local support had not disappeared.