English local elections: UKIP hopes to make gains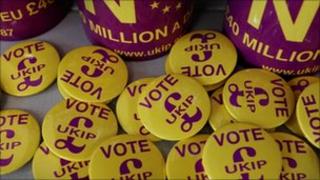 The UK Independence Party may be something of a force in the European Parliament these days but it has never done well in English local elections.
Voters have often struggled to see what relevance a party that campaigns for Britain's exit from the European Union has to their neighbourhood.
But this time the party is hoping it is going to be different.
Instead of disappearing off the opinion poll radar - as it has tended to do between European elections - UKIP's support has held up reasonably well.
The most recent IPSOS/MORI poll, based on a representative sample of 1,000 adults, put the party on level pegging with the Greens on 3%.
But some earlier polls have had UKIP snapping at the heels of the Liberal Democrats - and leader Nigel Farage has said its aim must be to overtake Nick Clegg's Liberal Democrats to become the third force in British politics.
Professional
Some might dismiss this as wishful thinking from a leader who has always talked a good fight.
But there are signs UKIP is starting to pick up the sort of protest votes that traditionally go to the Liberal Democrats - as well as benefiting from a slump in support for the British National Party.
In the two most recent Westminster by-elections, UKIP has performed well.
In Barnsley Central last month, it came an impressive second to Labour - on the back of a locally focused campaign, which argued that money going to Europe should be spent on the town instead.
The party's candidate, Jane Collins, is standing for the local council in Barnsley on 5 May.
UKIP is steadily becoming more professional, and better-funded, in its approach to local campaigning.
It has also benefited from a number of local defections, mainly from the Conservative Party, around the country.
Mr Farage - who was re-elected leader last year - has made improving the party's performance in local elections a priority.
Momentum
UKIP is fighting under the campaign banner "We the people". Its unique selling point, a spokesman told the BBC, is that unlike members of other parties UKIP councillors are free to speak their minds and "really represent the concerns of local people".
It has also been a strong voice against mass immigration - as both Conservative leader David Cameron, and Labour leader Ed Miliband seek to shift the perception among some voters, particularly in the South-East of England, that their parties have not been tough enough on this issue.
But the party has a mountain to climb compared with its larger rivals and still lacks the strength on the ground that the Lib Dems, Conservatives and Labour can command.
At the moment, there are just 19 UKIP councillors serving on local authorities in England, if town and parish councillors are included the figure rises to 75.
The last time the seats up for grabs on 5 May were contested, in 2007, UKIP returned five councillors, a net loss of one.
It is fielding 1,217 candidates this time - a significant increase on previous campaigns but still not enough to qualify for a party election broadcast.
UKIP says it is particularly well-organised in the South-East, Eastern region and South-West, but there are still significant parts of the country where no UKIP candidates are standing at all.
If it manages to make a few gains on 5 May - and avoid slipping backwards - it should be enough to maintain the sense of momentum generated by its recent Westminster by-election successes.