English local elections: Labour fight back from low ebb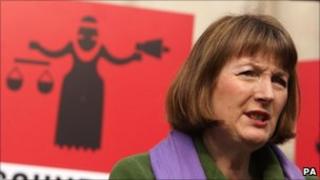 Labour have high hopes for the English local elections - their first national campaign in opposition for 14 years - and on the face of it at least, it's easy to see why.
First of all, the party is coming from a historically low base and would have to go some not to make an improvement.
In 2007 - the benchmark for comparison - the Conservatives had their best performance in local elections for 20 years, while the outcome for Labour was nothing short of disastrous. The party lost about 500 councillors and only just finished ahead of the Lib Dems in terms of vote share.
Second, the Lib Dems are really under the cosh right now. In the past, they have performed better at local elections than in general elections, but their opinion poll ratings have taken a pounding since they entered a coalition with the Conservatives at Westminster.
Lib Dem activists fear voters will use 5 May to give the party a kicking and lend support to Ed Miliband's party instead.
Thirdly, there are the spending cuts. Voters around the country who see their services or jobs under threat may choose to reward Labour for their opposition to the coalition's deficit-reduction strategy.
However, the Conservatives have been hammering home the counter-message about the need to end council waste - and a YouGov poll for the Sunday Times in February found that 48% of people thought cuts to council services were necessary, compared with 31% who felt they were unnecessary - so perhaps that kicking is not so likely after all.
'Destroyed'
Labour also has a major geographical problem - in the South, it has an electoral mountain to climb.
The party will be defending about 1,620 seats - 39.2% of its councillor base - and is fielding candidates in about 10% more wards than in 2007 in the hope of boosting its chances of making gains.
But of the 279 English councils holding elections on 5 May, Labour controls just 30.
The party has recently won two by-elections in safe seats in the North - Oldham East and Saddleworth and Barnsley Central - with increased majorities.
But the inroads Labour made in the South, South West and Eastern regions of England in its 1997 general election landslide have all but disappeared.
Labour now has only 10 MPs in those regions and none at all in a whole swathe of counties including Cornwall, Somerset, West Sussex, East Sussex, Kent, Essex, Surrey, Suffolk and Norfolk.
In the mid 1990s, Labour had overall control over 42 councils in the South East, South West and East. It has subsequently lost all but three - Slough, Luton and Stevenage - and although it did manage to claw back one more, Hastings, in May 2010, its total is still just four out of 167.
Jon Cruddas, Labour MP for Dagenham and Rainham, has gone as far as saying his party has "come close to being destroyed as a national force in England".
Even Ed Miliband has admitted the problem, telling the BBC: "I think we lost trust and we lost touch particularly in the south of England. Living standards is a big part of it, immigration is a big part too."
This north-south divide in politics is decades old, but Labour see the coalition as presenting a unique opportunity for them to replace the Lib Dems as the anti-Tory vote in the South.
In an interview with the Guardian, deputy leader Harriet Harman said: "There are large areas where people have voted Lib Dem as the progressive choice but perhaps now they are unlikely to want to vote with a party that has broken so many of their promises.
"One of our key aims is to ensure we are fielding candidates across the country - even in those areas where we may not have previously done very well - to ensure people have the option of voting Labour."
In this vein, activists have re-launched the 1990s campaign to expand Labour in the South, Third Place First, which aims to make sure there a "no no-go areas" for the party.
Student votes
As well as gaining ground in the South, Labour also have a number of other key targets in England - and high on the list is Sheffield.
The city is currently under no overall control after Labour lost it in 2007, but the council is run by the Lib Dems and Nick Clegg is one of the local MPs.
Labour will be hoping anger about tuition fees will boost their vote among the city's large student population and help it win an overall majority.
Newcastle is another target. The city is one of the feathers in the Lib Dem cap and Labour need six seats to take overall control.
It is a tall order, but the party won seven seats in the 2010 local elections, so it is not beyond reach, and again, a big student turnout could help.
Blackpool could also prove interesting. At first glance, with eights seats to win, it seems out of Labour's reach, but the Conservative council leader has gone public with his fears about cuts and his concern that the Tories will lost control in the city.
Labour also faces a battle to retain control in some areas. In Luton, one of its few southern seats the party has a majority of just two - with the Lib Dems in second place.
Labour is even more vulnerable in Hartlepool and North Lincolnshire, where their majority is just one.
Polling experts Rallings and Thrasher, of Plymouth University, say they expect Labour to gain more than a thousand council seats in this election and anything less would be disappointing.
Party spokespeople say they are not forecasting gains on that scale, but nevertheless, they know a significant improvement is vital in the first major test of Ed Miliband's leadership.