Nick Clegg gives house sale profits to taxpayer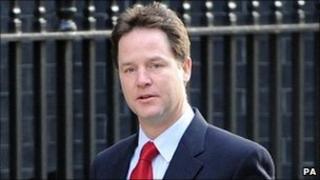 Nick Clegg has sold his constituency home, giving almost £40,000 in profits to the taxpayer.
The deputy prime minister is now renting a two-bedroom flat, having received £325,000 for his four-bedroom house in Sheffield.
Mr Clegg said he did not want to be "holier than thou" but encouraged other MPs to "get out of the property game".
Expenses rule changes mean MPs will not be able to claim mortgage payments on second homes from August next year.
They are instead being urged by the Independent Parliamentary Standards Authority to rent smaller properties.
Mr Clegg, MP for Sheffield Hallam, bought the house in Bents Green in 2006 for £280,000. It has been sold for £325,000 after going on the market in September last year.
This leaves a profit of £38,750 after fees and other costs are taken off.
'Very, very angry'
The Liberal Democrat leader and deputy prime minister told the BBC: "I've written a cheque and sent it today to the House of Commons authorities to make sure it goes back to the taxpayer.
"It's not something required of me. It's not something I expect other MPs of any party to do. I've had the benefit of living in that house and I wanted to give the benefit back to the taxpayer."
Mr Clegg, an MP since 2005, added: "The expenses scandals made people very, very angry. At the time I said MPs should get out of the property game, which is happening, which I pushed for.
"I don't want to be holier than thou. It is a small token of my feeling that the taxpayer helped me to have a home in Sheffield and, given the price went up, I felt the money should go to the taxpayer."
The flat Mr Clegg is renting is in Stannington, west of Sheffield.
His main home, which he shares with wife Miriam Gonzales and their three young sons, is in Putney, south-west London.