Cameron hints at blocking Brown bid for IMF job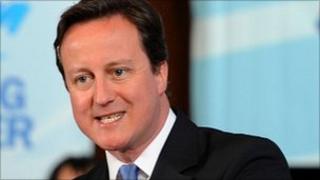 David Cameron has indicated he may block Gordon Brown from becoming head of the International Monetary Fund.
The prime minister said someone who "didn't know we had a debt problem in the UK" might not be the "best person" to run the global finance watchdog.
Mr Brown has been linked with the IMF job in press reports, but Mr Cameron told the BBC the IMF required someone "extraordinarily competent".
However, Labour leader Ed Miliband said Mr Brown was "eminently qualified".
He added that the former Labour prime minister's role in dealing with the global economic crisis of 2007/8 had been "outstanding".
And economist David Blanchflower, a former member of the Bank of England's Monetary Policy Committee, suggested Mr Cameron's stance was "vindictive" and "small-minded".
The UK and other major economies have an effective veto on the appointment of the IMF's managing director.
The incumbent, France's Dominique Strauss Kahn, is expected to step down soon, amid much media speculation that Mr Brown, who resigned as UK prime minister after his party lost last year's general election, could replace him.
'Excessive debt'
Mr Brown made a speech in the US last week, in which he said he admitted made a "big mistake" in setting up the UK's Financial Services Authority in the 1990s without appreciating the complex relations between global institutions.
This admission was seen by some commentators as part of a campaign to boost his credentials to succeed Mr Strauss Kahn.
Mr Cameron told BBC Radio 4's Today programme: "I haven't spent a huge amount of time thinking about this. But it does seem to me that, if you have someone who didn't think we had a debt problem in the UK, when we self-evidently do, they might not be the best person to work out whether other countries around the world have a debt and deficit problem".
He added: "Above all what matters is the person running the IMF someone who understands the dangers of excessive debt, excessive deficit, and it really must be someone who gets that rather than someone who says that they don't see a problem."
Mr Cameron also said: "I certainly don't want a washed-up politician from another country. It's important that the IMF is led by someone extraordinarily competent."
He suggested that the next IMF head could come from "another part of the world", such as China or India. By convention they are usually chosen from European countries.
The IMF's executive board picks the body's managing director, with the world's larger economies having the most votes. In practice a candidate, who needs a majority of the vote to succeed, can effectively be vetoed by countries like the US, France and the UK.
The IMF also says it likes to choose its leader by consensus, which means the biggest nations should be in agreement before the appointment goes to the vote.
'Outstanding record'
Mr Strauss Kahn, whose first five-year term of office is due to end next year, is expected to stand down ahead of this date to run for the French presidency.
Mr Miliband, who was a senior aide to Mr Brown when he was chancellor, said of Mr Cameron's comments: "It's slightly jumping the gun, since there isn't a vacancy at the IMF. To rule someone out before the vacancy has arisen seems to be going some, even for him."
He added: "Gordon Brown is an eminently qualified person for the job.
"I think that Gordon Brown's record in relation to the financial crisis of 2007/8, when he made a huge difference to preventing recession becoming depression, was outstanding."
And Professor David Blanchflower, a former member of the body which sets UK interest rates, strongly criticised Mr Cameron's comments.
"This is the most vindictive thing I have ever heard from a prime minister in 50 years," he told the BBC. "It looks to me to be extremely small-minded. It would, in my view, diminish Britain's power in the world."
Prof Blanchflower - who now works in the US - has been a frequent critic of the coalition's deficit-cutting strategy, arguing that its programme of spending cuts was a huge mistake and could lead to a double-dip recession.