Lib Dem Warren Bradley quits amid election fraud claims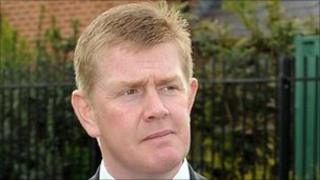 A senior Lib Dem councillor who urged Nick Clegg to end the coalition has quit as the party's leader on Liverpool City Council over fraud allegations.
Warren Bradley denies a claim he put his teenage son forward for nomination as a candidate without his knowledge.
It is understood a Labour councillor told the police. The Lib Dems have begun an internal investigation and suspended Mr Bradley's membership.
Mr Bradley warned last week that the Lib Dems face electoral oblivion.
He said the party could "disappear into the annals of history" in 5 May's English local elections if Mr Clegg did not pull out of the party's coalition with the Conservatives at Westminster.
'Not political'
Mr Bradley's resignation comes amid controversy over whether his 18-year-old son Daniel was properly nominated to stand as a candidate in Liverpool's Central Ward.
The allegation is that Warren Bradley falsely witnessed the nomination papers which were not in fact signed by his son.
In an interview with the Liverpool Daily Post, Daniel Bradley said: "I went in to see who signed for me. I did not put my name down. But I was told it was too late [to withdraw]. I went to have a look at the nomination paper and it was not my signature. I am not political at all."
But in an e-mail to Lib Dem councillors in Liverpool, Mr Bradley responded: "I have today been accused by the media of putting my son's name forward to stand for election, without his knowledge, and then to underline my intention I spoke to the press as if to reaffirm the fraud...
"I cannot say too much at this stage for obvious reasons, but to inform you I totally deny this allegation and am seeking legal advice to that end."
'Indefensible'
A Lib Dem spokesman said: "We can confirm that Warren Bradley 's resignation has been accepted with immediate effect.
"The party takes allegations of this nature extremely seriously and has launched an internal inquiry. We are also cooperating with all other relevant authorities.
"Flo Clucas will take up the role of acting leader until a leadership election can take place."
The Lib Dems later said Mr Bradley's party membership had been suspended "pending an internal investigation".
Mr Bradley's resignation comes ahead of local elections across much of England on 5 May.
In comments to Mr Clegg, leaked to the BBC last week, Mr Bradley warned that possible defeats could set the party back 40 years in Liverpool and said local councillors were "tired of defending the indefensible".
"The boil is about to come to a head and burst (probably on election night) when we lose some very well respected and experienced colleagues from Liverpool City Council."
The Lib Dems lost control of Liverpool City Council to Labour last year.