Profile: Rebekah Brooks, ex-News International chief
By Edward Stourton
BBC News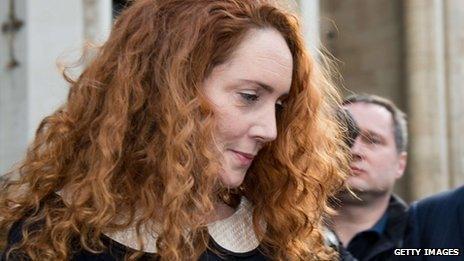 Before resigning as News International chief executive because of the phone-hacking scandal, Rebekah Brooks conquered the macho world of tabloid journalism with astonishing speed. What was behind her rise to power?
Rebekah Brooks - as she became following a second marriage - courted power but avoided publicity.
But the phone-hacking scandal at Rupert Murdoch's News International put her on the back foot, and in the public eye.
The commentator Henry Porter, who has written extensively about the power of the Murdoch press, described Mrs Brooks as having been "one of the most powerful people in this country" - essentially because she was Rupert Murdoch's UK proxy, even though "we have very little idea of her as a person".
The sense of mystery he describes certainly applies to Rebekah Brooks's youth. We know she was at school in Cheshire but very little else about her teenage years has been published.
However, someone who was close to her in her youth, childhood friend Louise Weir, describes Rebekah Brooks as more emotionally intelligent than academic.
"She's been very charming and she's always been able to get what she wants out of people, even if they don't really like her.
"She is a typical Gemini; she's got her lovely fluffy side and then her angry side," Louise recalls.
Rebekah Brooks's Who's Who entry mentions time at the Sorbonne, the prestigious Parisian university, but not whether she took a degree.
Colleagues at her first serious job in journalism remember her appearing as suddenly and mysteriously as a genie from a lamp.
Graham Ball was the features editor on Eddie Shah's famously short-lived Post newspaper when the 20-year-old Rebekah approached him in its Warrington offices.
"She came up to me and said 'I am going to come and work with you on the features desk as the features secretary or administrator'."
"I said 'I'm afraid that's not going to be possible because next week I'm going to London,' and I thought nothing more of it.
"The following Monday, I got to our new office in London, and there she was," he said.
"She did everything with great finesse, she was very clever."
When the Post folded, the then Rebekah Wade moved to the News of the World (NoW). The former Mirror editor Roy Greenslade met her just a couple of years after she had joined the News International team.
"She encourages you to feel that you're on her team, you're on her side. She'd say 'What should I do about this? How would I handle that?' And of course once you've given that kind of advice, you are much less likely to be critical."
When Rebekah Wade took the editor's chair at the NoW in 2000, she was the youngest editor of a British national newspaper.
Not long after her appointment eight-year-old Sarah Payne was murdered by Roy Whiting.
Amid the public outcry that followed, Rebekah Wade launched a name-and-shame campaign against convicted child sex offenders.
Rebekah Wade's stint as editor of the NoW also brought her into contact with the Labour politician John Prescott for the first time.
Lord Prescott says he was impressed with the way she handled the story, calling her "very reasonable and professional" - despite the later row over the way the story was dealt with by others at News International.
Rebekah Wade moved to edit the Sun in 2003.
According to commentator Henry Porter: "She's obviously charming and an extremely adept politician and good at getting on with people, but when it comes to being in the public eye and having to think on your feet, I don't think she's that good."
Rebekah Brooks is said to have enjoyed riding in the Oxfordshire countryside with David Cameron, and she invited the prime minister to her Christmas party. All very much in the best Murdoch tradition, according to Henry Porter.
"The Murdoch empire, always thought to be a Conservative organisation, actually is remarkably adaptable to politicians' views and actually doesn't have a strong ideological presence."
But the phone-hacking scandal has become a real threat to the interests of the Murdoch empire and its influence.
It cost Andy Coulson his job at No 10 and it prompted the closure of the NoW on 7 July 2011, after 168 years in print.
The scandal could cost News International millions of pounds in compensation.
Finally, on 15 July 2011, after a relentless build-up of pressure, Rebekah Brooks quit as News International chief executive.
Her arrest, over phone-hacking and corruption allegations, came two days later. She denied wrongdoing.
In May 2012, Mrs Brooks, her husband Charlie Brooks and four others became the first people charged as part of Scotland Yard's ongoing phone-hacking investigations.
In a statement, the Brookses responded to the charges of conspiracy to pervert the course of justice by accusing prosecutors of a "weak and unjust decision".
On 24 July 2012, the Crown Prosecution Service announced Mrs Brooks would also face three charges relating to the alleged accessing of phones belonging to the murdered schoolgirl Milly Dowler and former Fire Brigades Union boss Andrew Gilchrist.
Mrs Brooks said she was not guilty of the charges, adding that the one relating to Milly was "particularly upsetting, not only as it is untrue but also because I have spent my journalistic career campaigning for victims of crime".
Related Internet Links
The BBC is not responsible for the content of external sites.