AV referendum: Result will not end coalition - Cameron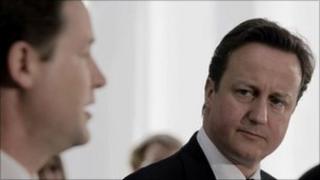 The referendum on changing the UK voting system will not break the coalition, David Cameron has said.
The PM, who backs first-past-the-post, said he and his deputy Nick Clegg, who wants to replace it with AV, were both committed to a five-year government.
Both party leaders were putting the opposing cases in TV interviews on Sunday - ahead of the 5 May referendum.
Mr Clegg said his party had faced constant predictions of "disaster" but it would remain "resilient".
Earlier one of his predecessors as Lib Dem leader, Lord Ashdown, accused Chancellor George Osborne and other opponents of AV of "throwing mud".
'Absolutely committed'
The latest exchanges come as a survey suggests public opinion has hardened against a switch.
The Conservatives and Liberal Democrats are coalition partners but are on opposite sides of the campaign on changing the voting system for Westminster elections from first-past the post to the Alternative Vote (AV).
The Conservatives agreed to the referendum on 5 May as part of the coalition deal, which also allows both parties to campaign on opposing sides.
There have been suggestions that a "no" vote could spell the end for the coalition - amid some Liberal Democrat unease over coalition policies on university tuition fees and spending cuts.
But Mr Cameron told Sky's Murnaghan programme: "Whatever the result on May 5, this is a five-year government, Nick and I are absolutely committed to taking the government and its programme forward."
"Whoever is on the losing side as it were will just have to pick themselves up and say: well, it was a fair argument, a fair fight, a fair referendum, the country has decided and now we have got to get on with all the things that really matter so much."
Under the first-past-the-post system, voters put a cross next to their preferred candidate, while under AV voters rank candidates in order of preference.
These preferences could be used to decide the outcome in places where no candidate wins more than 50%.
Mr Cameron told Sky first-past-the-post was a system "that is effective, that is simple, that is fair, that works, that is used by half the world".
'Stinks'
He added: "We shouldn't swap it for a system that is unfair and used by just a handful of countries and that is much more complicated."
Mr Cameron's interview followed an article in the Observer, in which former Lib Dem leader Lord Ashdown accused Chancellor George Osborne and Tory party co-chairman Baroness Warsi of mudslinging during the campaign.
Mr Cameron told Sky there "should be a reasonable argument on both sides" but said there was "nothing wrong" in the point Mr Osborne had been making.
Lord Ashdown said later that Mr Cameron had been "responsible" in putting forward his arguments against AV - but criticised "ridiculous scare tactics" by the no camp.
Mr Clegg told BBC One's Politics Show the Alternative Vote was a "relatively modest change" and retained the constituency link.
But he said it would be "fairer" and made "every vote count": "In the last general election, only 1.6% of the total electorate had any bearing on the final outcome.
"It's 460,000 voters out of 45m voters, targeted in marginal seats, who made the difference. That cannot be fair. That cannot be democratic."
He played down suggestions that he could face a leadership challenge if the referendum results in a no vote and the party does badly in the 5 May elections.
"As long as I've been leader of the Liberal Democrats, I have literally - on a weekly basis the sort of predictions of Armageddon for the Liberal Democrats. Every single week. And every single week disaster predicted and every single time we as a party confound people.
"We are much more resilient than people have given us credit for and I suspect we will be much more resilient in the future as well. "
Labour is split over AV - party leader Ed Miliband is campaigning to change the current system but senior Labour figures, including former deputy PM Lord Prescott, want to keep first-past-the-post.
A ComRes survey for the Independent on Sunday and Sunday Mirror - weighted to reflect those certain to vote - found 37% backed AV with 43% against, compared with a 36% to 30% split the other way in January.