Cameron: Libya UN resolution makes mission 'difficult'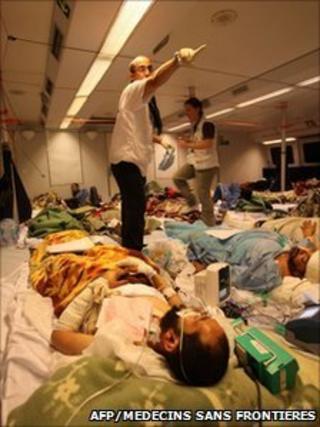 The UK prime minister has said the terms of the UN resolution on Libya are a "restriction" on the coalition powers who have been trying to protect civilians and enforce a no-fly zone.
David Cameron said the UK was not occupying or invading but said these restrictions imposed by the UN made the mission in Libya more difficult.
But he stressed the restrictions were the "right" ones.
It comes amid reports of fresh fighting between pro-Gaddafi forces and rebels.
Opponents of Libyan leader Colonel Gaddafi say at least six people were killed and 47 wounded when his forces shelled the western town of Misrata, the embattled rebel holdout in the west of Libya, on Sunday morning. Pro-government fighters are also said to have shelled Ajdabiya in the east.
UK International Development Secretary Andrew Mitchell is to hold talks with the United Nations on Monday about the humanitarian situation in Libya.
The BBC's Peter Biles, in Benghazi, said hundreds of civilians had left Misrata in recent days and there was "increasing anxiety" among rebel leaders and doctors about the situation in the city where 300,000 people live.
On Sunday, about 100 wounded people from the city were taken to Tunisia by a boat operated by medical charity Medecins Sans Frontieres.
Members of the transitional national council have called on Nato to target Col Gaddafi's long range rocket launchers, our correspondent added.
The UK's Department for International Development said reports from within Libya suggested the humanitarian situation in certain areas in western Libya was "dire".
It said approximately 300 civilians had been killed and a further 1,000 injured in Misrata since late February.
Agencies have said there are shortages of critical supplies and attacks targeted against civilians and medical facilities, preventing staff from working.
At the UN, Mr Mitchell will discuss plans to increase aid and medical supplies and ensure better access.
He said: "The humanitarian situation in Misrata is of great concern.
"It is vital that we continue to get help, such as food, water or medical supplies, through to people. Humanitarian agencies must be given free and unfettered access to Misrata, and other areas affected by fighting."
Libya's government has denied a suggestion from Human Rights Watch that its forces are using cluster bombs, which are banned by more than 100 countries, in Misrata.
Responding to the denial, Peter Bouckaert from Human Rights Watch told BBC News "extensive physical evidence" of the use of cluster munitions in Misrata had been found.
Earlier Mr Cameron told Dermot Murnaghan on Sky News: "We're not occupying, we're not invading, that's not what we're about. And that is obviously a restriction on us, but I think it is the right restriction.
"It's because we've said we're not going to invade, we're not going to occupy, this is more difficult in many ways, because we can't fully determine the outcome with what we have available.
"But we're very clear we must stick to the terms of the UN Security Council resolution - and we must keep the support of the Arab world."
Mr Cameron went on to say enforcing the resolution meant bombing missions "to actually take out Gaddafi's tanks and artillery and command and control that are unleashing this hell on people in Misrata in Brega, and other towns up and down the Libyan coast".
He said it should also mean "things like helping, as we are, the interim transitional national council, assisting the rebels with non-lethal equipment, as we have done".
"We've given them body armour, we've given them communications equipment. But of course, clearly we should be doing things to help the protection of civilians," he said.
Diplomatic settlement
The UN resolution authorises "all necessary measures" to protect civilians under threat of attack - short of an occupying force. Libyan leader Muammar Gaddafi's removal is not a specified military objective of the action.
Shashank Joshi, a defence analyst with the Royal United Services Institute think tank, told the BBC there was only a "limited amount" Nato could achieve under the resolution.
But he said ground forces would be a "terrible idea" and there was "no prospect" of the UN supporting such action.
He added: "What is simply required is continuing the pressure of Gaddafi in a limited way while pressing for some sort of diplomatic settlement that gives him a way out.
"We have partly backed him into a corner by pressing for regime change and I think that's been a serious error."
On Saturday, the former head of the UK armed forces Lord Dannatt said the allies should seek United Nations approval to arm and train Libyan rebels.
Meanwhile, former UK government minister Lord Trefgarne has told the BBC the rebels have been able to raise funds through the sale of "at least one significant shipment" of oil through Qatar under a deal authorised by the UN.