Libya: Recall Parliament over mission, urge Tory MPs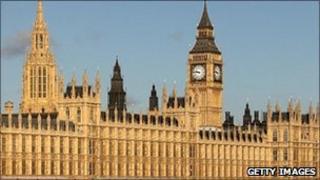 Three Conservative MPs say Parliament should be recalled to discuss Libya - after David Cameron said there could be no peace with Muammar Gaddafi in power.
Former shadow home secretary David Davis and backbenchers John Baron and Peter Bone want MPs to debate the action - two Labour MPs back the call.
Mr Baron, who has written to Commons Speaker John Bercow, said there had been a "significant shift" in policy.
No 10 sources said the position had not changed and a recall was not planned.
Parliament is in recess and is not due to return until 26 April. Leader of the Commons Sir George Young has said Parliament would be recalled "if circumstances require it".
On Friday the prime minister - along with French President Nicolas Sarkozy and US President Barack Obama - said allowing Libyan leader Col Gaddafi to remain in power would "betray" the Libyan people.
'Fundamental change'
In an article in the Times, Le Figaro and the International Herald Tribune, they said: "So long as Gaddafi is in power, Nato and its coalition partners must maintain their operation so that civilians remain protected and the pressure on the regime builds."
Mr Baron, the only Conservative to vote against the intervention in Libya, said there had been a "clear alteration" to the UN-authorised mission and it had gone beyond a humanitarian exercise focused on protecting civilians.
"The mission has fundamentally changed," he told the BBC. "We are now talking about regime change, which is illegal under international law."
When MPs debated the military action on 21 March, 557 MPs backed the enforcement of the UN resolution and 13 voted against it.
Mr Baron said the vote may have taken a "different course" if MPs had known how the mission would evolve.
'Not authorised'
Confirming he had written to the Speaker requesting a recall, he added: "We need to discuss it as a Parliament."
Mr Davis said Parliament "did not authorise the next phase of this".
He told BBC Radio 4's World at One: "Whilst I approve of the next phase - I think it's necessary, I think it's probably unavoidable, and I think Cameron has done the right thing at every step so far - to go to the next phase he has to get Parliamentary authority".
Backbench MP Mr Bone added: "I'm not taking a view on the arguments. I'm saying I want to hear the arguments and want Parliament to take a view on it."
The recall move was also backed by Labour backbenchers David Winnick and Jeremy Corbyn, the latter saying Nato had "no interest in a political solution" in Libya.
But Conservative MP Richard Ottaway, chairman of the Commons foreign affairs committee, told the BBC the article by the three leaders "doesn't actually take things any further".
"This is a humanitarian mission and it is protection of the civilian population which is top of the order book and, I think, has not altered. We should only be recalling Parliament if there is a change in policy."
And shadow foreign secretary Douglas Alexander said the leaders had stated in their article that the UN resolution would be "adhered to" and Labour supported this.
'Threat remains'
It comes amid signs of division within Nato over the mission. Only a few of the organisation's 28 members - including France, the UK, Canada, Belgium, Norway and Denmark - are conducting air strikes.
After two days of talks in Berlin, Nato secretary general Anders Fogh Rasmussen said discussions would continue about deploying additional warplanes: "I am hopeful that we will get the necessary assets in the very near future."
He backed the newspaper article by the three leaders, adding: "Nato is absolutely determined to continue its operation for as long as there is a threat against Libyan civilians. It is impossible to imagine that threat will disappear with Gaddafi in power."
The UN resolution authorises "all necessary measures" to protect civilians under threat of attack - short of an occupying force. Col Gaddafi's removal is not a specified military objective of the action.
Foreign Secretary William Hague said Nato must keep up its pressure on the Gaddafi regime since it was not complying with demands for a ceasefire and the threat to civilians from aerial bombardment remained.
He added: "There does not seem to be a peaceful or viable way forward for Libya while Col Gaddafi is in power."