Labour backlash over 'lazy MPs' AV campaign video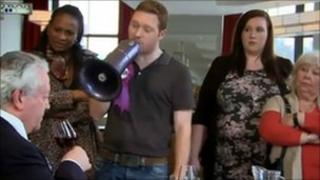 Some Labour MPs are refusing to hand out leaflets backing the alternative vote because they say the Yes campaign implies they are lazy and corrupt.
Ian Murray, Jeremy Corbyn and Kerry McCarthy said it was "insulting" to suggest that AV was needed to make MPs work harder and prevent expenses abuse.
But shadow minister John Denham defended the Yes campaign.
He said AV would mean that all MPs would have to work hard enough to gain support from 50% of constituents.
The Yes and No campaigns both launched their campaign broadcasts earlier this week.
In the Yes video, a series of voters are shown shouting at their MPs for not working hard enough, while the MPs run away, hide or ignore them.
The film also blames the current voting system, first-past-the-post, for the expenses scandal and says the "old guard" of MPs are opposed to a change because it will end their "cushy lifestyles".
The No broadcast, meanwhile, uses the unpleasant - and fictional - MP Alan B'stard to demonstrate what it says are the perils of AV.
'What an insult!'
Edinburgh South MP Mr Murray told the BBC: "The No campaign video is a bit silly, but the Yes one is actually insulting.
"It's been deliberately designed to upset MPs and provoke negative feelings towards them, saying they're not working hard enough and raking up the expenses issue again.
"I'm calling on the campaign to name the MPs they think are lazy because all the ones I know work very hard. There are 650 MPs and obviously within a number that size you're going to get a few who aren't pulling their weight, but the vast majority do."
He added: "The whole AV debate is being polarised with nonsense on both sides. Both camps are putting out information that is just completely untrue."
Mr Corbyn, who represents Islington North, also called the broadcast "an insult" and told the BBC he had refused to hand out any leaflets while campaigning for the 5 May local elections.
"It actually gives people the subliminal - or actually, not very subliminal - idea that MPs are intrinsically lazy and corrupt.
"That's simply not true. All the MPs I see around me in London work extremely hard - you couldn't be an MP in a challenging constituency like mine and not work hard.
"I voted in favour of having a referendum. I don't believe particularly strongly in either system, but I think we should be having a serious political debate about it and certainly not be turning it into an attack on the principles of elected democracy.
"I think it's just cheap and rather silly."
Labour leader Ed Miliband is backing the Yes to AV campaign, although some senior figures in his party, including former ministers David Blunkett and Lord Prescott, are opposing it.
'Pointing at pot holes'
Ms McCarthy, MP for Bristol East, also said she had refused to give out leaflets on the doorsteps, despite being, in her words, "just in the Yes camp".
"I think it's quite a Lib Dem thing, talking about MPs having more of a presence in their constituencies," she said.
"And it's tricky because I do worry that actually, these days, we don't have enough time in Parliament to do proper legislative scrutiny.
"When you've got major things like the health reform bill being rushed through you really need to be there often so you can fully understand them.
"Constituents want you to be out and about, doing what I call 'pointing at pot holes'. But if MPs are doing more of that, people will start saying, 'Where were you when that bill was debated? Why weren't you in the Commons?'"
Responding to the MPs' criticism, Mr Denham said: "I know my Labour colleagues all work hard for their constituencies, but what we want is for all MPs to work to get 50% of their constituents' support.
"That's why I'm supporting a yes vote on 5 May "
Jane Kennedy, national organiser of the No to AV campaign, said a number of other Labour MPs had also contacted her to complain about the Yes broadcast.
"They do seem to have scored a bit of an own goal with it," she said.