Mike Weatherley: MP and Iron Maiden fan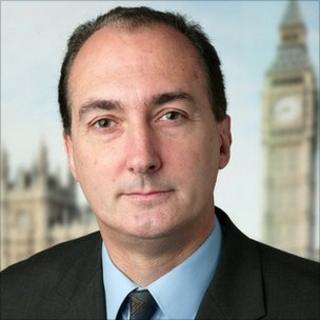 David Cameron says he likes to sway along to the songs of Morrissey.
Ed Miliband prefers the Nordic synth pop of A-ha, with some Beethoven thrown in now and then.
Nick Clegg - partial to a bit of Chopin - recently admitted that he cries "regularly" to music to overcome the frustrations of government.
But Mike Weatherley is different.
The Conservative MP for Hove and Portslade likes to hear men in tight leather trousers screaming at the top of their voices.
There is nothing untoward in this: Mr Weatherley is a heavy metal fan.
His passion is Iron Maiden, Britain's longstanding rulers of the genre, who are still going strong more than 30 years after their vinyl debut on compilation album Metal for Muthas.
Mr Weatherley, a father of three and former accountant who ran his own 150-employee business, has gone as far as Brazil to watch the band in concert.
"I'm a huge music fan," he said. "Heavy metal is my favourite kind. I love screaming guitars - that's my music.
"Iron Maiden are my favourites. I try to get to watch them when I can.
"Some people like to go on a golfing weekend; my mates and I go on a music weekend instead. If there's a band going to Barcelona or somewhere to do a concert, we will try to go."
'World force'
Iron Maiden, famed for songs like Run For the Hills, The Number of the Beast and Bring Your Daughter to the Slaughter, might not be to the taste of all parliamentarians.
But Mr Weatherley is not alone in his passion, even on the Tory benches.
"John Whittingdale [chairman of the culture select committee] is into heavy metal too, "he said. "He likes AC/DC."
Mr Weatherley, elected to Parliament at last year's general election, is, like so many hard rockers, very mild-mannered when away from the stadium.
Sitting on the terrace of the Palace of Westminster, overlooking the Thames, he explains his own efforts to promote British bands and small music venues with his Rock the House initiative.
It is aimed at raising awareness of copyright and related issues, in an age where musicians are losing millions of pounds through the popularity of YouTube and other internet providers of free music.
Fellow MPs are being asked to pick out the best demo tapes sent in by their constituents. They will go forward for a nationwide competition, after which industry judges will pick the winners.
'World force'
Among the prizes on offer is a gig at Liverpool's Cavern Club, where the Beatles made their name.
Mr Weatherley, an expert in intellectual property who used to work for the pop impresario Pete Waterman, said: "Rock the Vote is aimed at bringing awareness to MPs of live music and intellectual property.
"Our country is still a world force in music and we have to protect the industry.
"I expect about 100 MPs to take part in the competition. So many have come up to me and said thanks. They are very grateful that the competition has given them the chance to meet people, especially young people, that they might not otherwise come across and talk about issues they don't usually discuss."
It is not just in his musical tastes that Mr Weatherley, 53, differs from many of his fellow Conservative MPs. He opposes fox-hunting and nuclear power.
"I went to Chernobyl [the site of the world's worst nuclear accident, in 1986] once and that had a profound effect on me," he said. "We went to a town which had once had about 50,000 people living in it but had been completely evacuated after the explosion.
"There was a Ferris wheel that was built just before the disaster happened. It was just standing there doing nothing. It was a very sad place.
"We worked out that 750,000 people around the world had died from the effects of the Chernobyl explosion.
"Nuclear power isn't worth the risk. I'm not saying it could never be used if the lights were about to go out, but we must explore the alternatives."
Mr Weatherley has a tattoo on his left leg. It contains the slogan "Live for the Moment".
"It's supposed to be a reminder that we are only here for a brief moment, in terms of the universe, which all sounds a bit heavy, I suppose. But it's meant to say we shouldn't take everything in life too seriously.
"My father and mother both passed away within six or seven weeks of each other. We are not around forever."
Mr Weatherley, who worked as a ski instructor in Aviemore for a while in his younger days, cycled through Egypt from the Aswan dam to the city of Luxor shortly before becoming an MP.
"It was fun and culturally eye-opening. We rode through remote villages in the desert - a great experience. I think everything in life should be a little bit fun."
It cannot be easy for a new MP to keep a sunny disposition when faced with votes on obscure issues, reams of documents to process and the woes of constituents to deal with.
Mr Weatherley, though, insists he is relishing the job.
'Quiet beer'
But one concern, as a frequent commuter between Hove and London, is anti-social behaviour on trains.
He has met the managing director of Southern Railway to discuss the problem and urge him to put more staff on board.
"There's no need for bad behaviour," he said. "I have a personal stereo that moulds to the ears. Why do people have to wear massive phones that make loads of noise?
"I take a lot of trains home late at night. I sometimes have a quiet beer during the journey, but there's often some else on board who's had 20. That's not on.
"Since I've started talking about the problem I've had loads of letters on it."
But what if one of the late-night miscreants was blasting out Iron Maiden? Would that be a little more acceptable?
"As I said, there's no excuse for the level of noise, no matter what the music," Mr Weatherley said, with a twinkle in his eye.