Alan Johnson set to write childhood memoir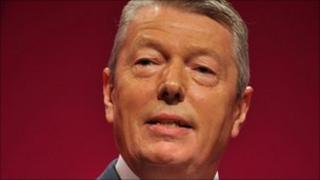 Former home secretary Alan Johnson is set to write a book about his childhood, according to a spokesman.
The Labour figure, who quit as shadow chancellor in January, spent his earliest years in impoverished north Kensington in the 1950s.
He was orphaned at 12 and raised by his sister, who was three years older, in a council flat before leaving school aged 15 and becoming a postman at 18.
Mr Johnson's spokesman called this personal story "unusual and inspiring".
"Alan Johnson is a politician outside the usual mould," he said.
North Kensington, during the period when Mr Johnson was growing up in the area, was where photographer Roger Mayne was famous for his documentation of children living in poverty.
The Hull West and Hessle MP stepped down as shadow chancellor in January citing "personal reasons".
His decision to quit came as a surprise at Westminster, even though he had suffered some criticism for his performance as shadow chancellor.
'Doomed to failure'
Mr Johnson, an MP since 1997, served as home secretary, health secretary and education secretary under Gordon Brown.
He was the first former union leader in four decades to become a Cabinet minister when he took on the post of work and pensions secretary in 2004.
His reputation as an affable politician with an everyman appeal won him a solid following among Labour's MPs and rank-and-file members.
However, he always resisted calls to make a bid for the party leadership, insisting that he did not think he was fit for the job.
He once told GMTV the idea of him entering No 10 was similar to "the idea of putting the Beagle on to Mars - a nice idea but doomed to failure".