English Democrats launch local election campaign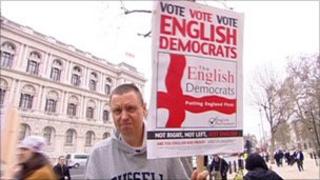 The English Democrats have staged a protest against prescription charges, as they launched their campaign for the English local elections.
The party says the English "must be fools" to pay for prescriptions when Wales, Northern Ireland and now Scotland get them free of charge.
The English Democrats - who are fielding about 250 candidates on 5 May - campaign for English devolution.
England is now the only part of the UK to charge for prescriptions.
Party chairman Robin Tilbrook said this was "unfair" to people in England and illustrated his party's point about the need for self-governance.
He said: "We've got a situation where, in effect, as taxpayers we are paying to provide free prescriptions in Scotland, Wales and Northern Ireland but in England we are required to pay again for our prescriptions."
English Democrat members dressed in "April Fool" costumes staged a small demonstration outside the Department of Health in Whitehall.
Waving banners which read: "Still paying for your prescription - you must be an English fool," they handed out leaflets to passers-by, chanted slogans and sang "Jerusalem".
The party, which has been in existence for eight years and has a handful of local councillors in England, achieved a breakthrough in 2009 when one of their members, Peter Davies, was elected mayor of Doncaster.
Mr Tilbrook said that as it became increasingly obvious that devolution of Scotland, Wales and Northern Ireland was "a process not a destination" his party's moment would come.
"We hope that this year will be the year we start to get more people elected," he told BBC News.